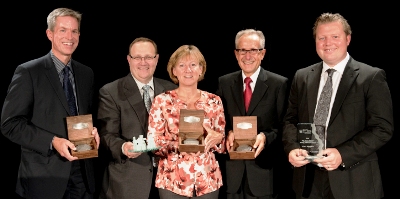 Five remarkable alumni were recognized for their outstanding contributions to the world of business, the community and their alma mater at the 2010 Telfer School of Management Alumni Association Gala of Excellence. The gala was held at the Canadian Museum of Nature on September 25, 2010, during the University of Ottawa's Homecoming celebrations.
The Trudeau Medal
Established in 1989 in honour of Reverend Father Roland Trudeau, OMI, former director of the University's Commerce department from 1950 to 1965, the Trudeau Medal is the highest honour given by the Telfer School of Management to its alumni.
The 2010 recipients are:
Derek Beckley, MHA 1978
President, The Genus Group Inc.
David S. Logan, BCom 1980
Founding partner, Logan Katz LLP
Lynda Partner, BCom 1983
CEO, Partners Inc.
Young Achiever Award
The Young Achiever's award was created to honour the individuals (under 40) who have been able to achieve greatness in their lives within an exceptional period of time.
The recipient this year is:
Carl Nappert, BCom 1998
Partner & Executive Vice President of Sales and Marketing, Maplesoft Group.
The Dean's Philos Award
The Dean's Philos Award recognizes individuals who have demonstrated outstanding philanthropic achievement and social commitment.
The recipient this year is:
Dean Karakasis, BCom 1983
Executive Director, Building Owners and Managers Association