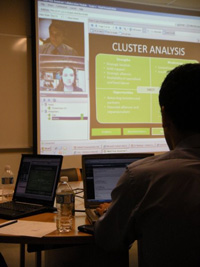 On Thursday, November 24, 2011, Managers Without Borders will be hosting their annual case competition which involves students from universities located in North America, Europe, and Asia working together on intercultural teams. Students from the following universities will be taking part in this year's competition:
Telfer School of Management, University of Ottawa (Canada)
University of Mannheim (Germany)
ISM University of Business Management and Economics (Lithuania)
Université du Québec à Montréal (Canada)
City University of Hong Kong (Hong Kong)
Copenhagen Business School (Denmark)
Boston University (United States)
Escola de Administração de Empresas de São Paulo - Fundação Getúlio Vargas (Brazil)
University of Wisconsin (United States)
Brandeis University International Business School (United States)
Institute of Business Administration (IBA), University of Dhaka (Bangladesh)
Teams will have 48 hours to come up with the best solution. Five teams will be presenting their cases to a panel of judges. The winners will share $3,000 and the runner-up will receive $2,000. All are welcome to watch one or all of the case presentations and to attend the networking reception.
When:

Thursday, November 24, 2011
Presentations - 3:00 p.m. to 5:30 p.m.
Announcement and Networking - 6 p.m.


Where:

Desmarais Building, Room 7170
http://sites.telfer.uOttawa.ca/vicc/ [This link is no longer available]