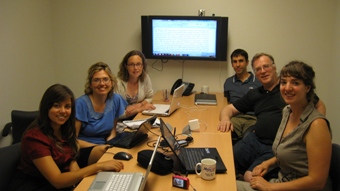 This spring, the Federal Minister of the Environment, the Hon. Jim Prentice, announced the new Federal Sustainable Development Strategy consultation paper, "Planning for a Sustainable Future: A Federal Sustainable Development Strategy for Canada". He invited all Canadians to "provide guidance on the issues that are presented in this consultation paper". Five students from the Telfer MBA program decided to take up the challenge and prepared an official response as part of a directed reading course. Under the direction of Prof. André Potworowski, they worked hard to examine the strategy and provided an analysis from a management best practice perspective.
Based on the classical definition of strategic planning, they asked "whether the document and its appendix are likely to deliver the stated objectives as outlined in the ministerial cover letter, whether the resources to achieve these are properly identified, and finally whether there are appropriate indicators and metrics to track progress."
The students gave the federal strategy passing marks: great goals and objectives, but unclear linkages to implementation. They also found that the efforts to develop better tracking metrics and indicators were probably insufficient. Metrics and indicators are crucial to tracking the progress of any strategy. As Gabriela Golumbovici, one of the students, said, "I think the government is aware of its current weaknesses, and they are trying to make changes. It takes time, that's understandable, but what we're looking for is greater transparency, accuracy and comparability."
The student response, sent on July 12 to Environment Canada, will probably be one of a hundred or so submitted by various individuals, NGOs and other associations across Canada. An official from Environment Canada said that the different responses will be collated and posted in the next few weeks.
Photo: From left to right, Kathryn Emmons, Gabriela Golumbovici, Marie-Amélie Tiriau, Sean Williams, Dr. André Potworowski and Clotilde Mallet.