This year's MBA Games were held from January 2 to 4, 2016 in Toronto. Fifteen of Telfer's finest MBA and MHA students travelled to York University to participate in academic case competitions focused around finance, entrepreneurship, marketing, and strategy. They also participated in sports, cultural and spirit activities, displaying excellence in teamwork, leadership, and engagement in every division.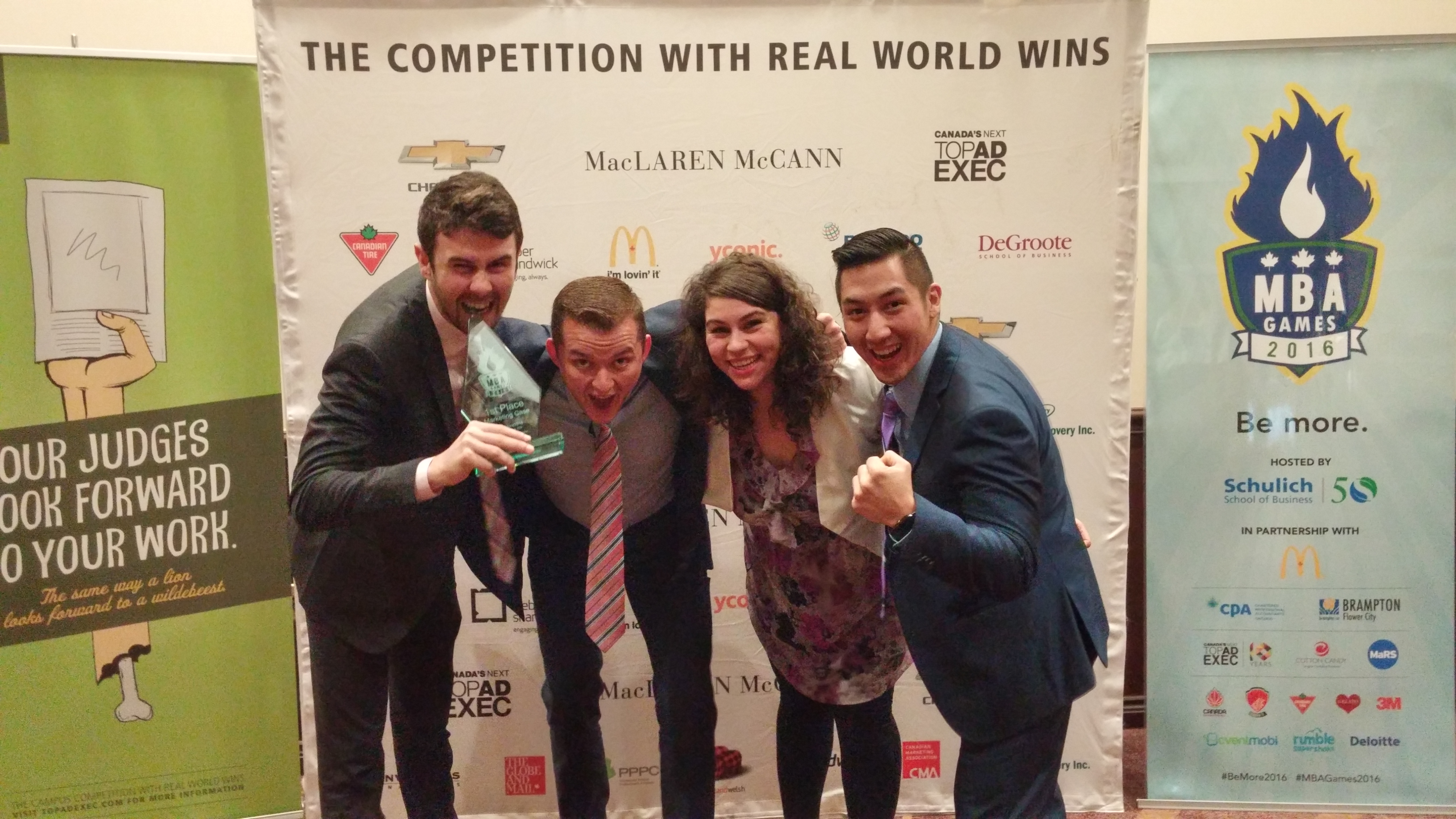 The Marketing Team landed first place in the competition. Members of the team are: John Lachapelle, Ihor Bryden, Sarah Lag and Julio Chiong.
"Being part of the MBA Games was a unique experience that none of us will ever forget," comments the Marketing Team. "It was an honour representing Telfer and going head to head against some remarkably talented people. Bringing the trophy back home with us was the icing on the cake!"
Other achievements at this year's Games:
The Spirit Team (Mariam Iqbal, Abeer Sami, Michelle Navarro) won one of the spirit events, in which they had to build a maze out of cardboard boxes with the theme of Outer Space for kids from the Ronald McDonald House Charity.
The Dodgeball Team (Ella Cooper, Lianne Davies, Uyen Ta, John Lachapelle, Ihor Brydun) made it to the quarter finals.
"The MBA games is an annual competition of some 500 MBA students from across the country," says Greg Richards, Director of the MBA program at the Telfer School. "I'm incredibly proud of the MBAs and MHAs who participated this year. We were a small team but made up in spirit what we lacked in size. Congratulations to all students who participated and to the marketing team for a great performance."
Meet some of the members of this year's delegation:
Mariam Iqbal was Telfer's team captain for the MBA Games, which is her main task as one of the MBA Coordinators on the MBA Student Association (MBASA). She says she decided to participate in the sport section of the MBA Games because to her, it represented a great opportunity to meet and network with students from other universities. "It also allows us to display the skills we have learned, representing Telfer," she says. Mariam says she chose to study at the Telfer School of Management because: "the faculty comprises of experts and well versed professors and mentors, allowing for maximum growth of [her] network and learning beyond classrooms."
Julio Cam is also one of the MBA Coordinators on the MBASA. He wanted to take part of the MBA Games because he likes to take advantage of every opportunity he gets during his MBA experience to meet new people, to learn new skills and to have fun. Julio says his most memorable experience at Telfer so far has been taking a Marketing class with Professor Michael Mulvey as he says that his classes were not only interesting, but that he always tried to bridge the gap between theory and practice by giving students real life examples.
Uyen Phuong Ta joined the MBA Games to represent her team and school but most importantly, she says that she wanted "to make new connections, think critically and start the new year with a BANG!" Uyen's five year goal is to work in the healthcare industry as an administrator and making a difference to Canadians by improving the system delivery.
This year is Michelle Navarro's second year competing in the MBA Games. She says she signed up again, in the Strategy Case Competition, because she had so much fun competing last year. Michelle says that what matters to her is being able to conduct business in an ethical way, and in a way that benefits all stakeholders and employees: "Telfer has managed to show me that you can have a successful business or segment of the public service and maintain moral and ethical integrity at the same time!"
Hala Migahed took part of the MBA Games because she wanted to learn from and share ideas with other students across Canada with similar aspirations. She chose to do her MBA at Telfer because it is offered in French, because teachers have the practical and theoretical knowledge, and the schedule allows her to maintain her full time job. What matters most to Hala is learning from experience to improve herself on a personal and professional level. She says: "The school has helped me learn not just from a book but from real people with real stories and priceless experience."
Congratulations to whole team for their determination and valiant efforts throughout the MBA Games!