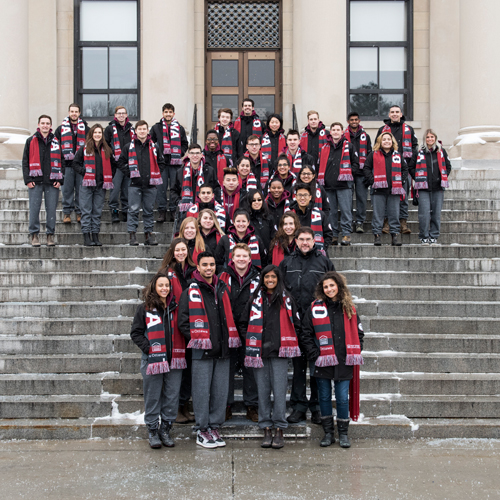 From January 5th to 7th, 2018, nearly 130 students represented the Telfer School of Management at two of Canada's largest inter-university competitions. The teams participated in academic, sporting and social events.
The first competition, Jeux du commerce (JDC), brought together 13 universities at Concordia University in Montreal, home of the John Molson School of Business, as the bilingual competition celebrated its 30th year.
Unfortunately, the second competition, Jeux du Commerce Central (JDCC) in Halifax, Nova Scotia, was cancelled due to extreme weather conditions.
Congratulations to Telfer BCom students for winning the following in academic and sporting events:
1st place – Finance Case: Dmitry Shorikov, Katya Berez and Xing Zang.

Coaches: Michael Reynolds and Professor Allan Riding.

1st place – Tax Case: Dominic Piscopo, Julie-Anne Given and Nikita Gupta
2nd place – Netball: Sean Lumney, Curtis Lu, Santiago Pinzo, Tamara Roy-Stang, Emily Potvin, Jordan Earls, Marisha Sesto, Michael Shaheen and Maxime Frost

Coaches: Fadi Azzi and Emily Ryan

3rd place - Human Ressources Case: Marie-Claude Monette, Isabelle D'Aoust and Deanna Carter.

Coaches: Maral Elliot and Matt Archibald.

3rd place – Project Operation Management Case: Austin St. Pierre, Dylan Budimir-Hussey and Cherise Naidu.

Coaches: Professor Jasmin Manseau and Aghilas Chebini.