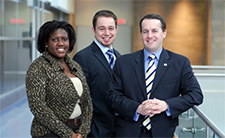 Shaping tomorrow's health care service leaders for the past 50 years
Read more › [This link is no longer available]
On May 3, 2014, the Telfer School of Management and the Telfer MHA Alumni Association held a gala at the Château Laurier to highlight the 50th anniversary of the Master of Health Administration (MHA) program.
The Gala was host to some of the elite in health care management and policy in Canada. More than 300 alumni, professors, preceptors, professionals and members of the community were present, representing 39 of the 50 years of the program.
"I have been extremely privileged to be part of this health care system and like many graduates, it all started for me with this MHA program." said Cameron Love, MHA 1997. "I will always remember my times as a student and resident. During the first 50 years, the program has seen many great moments and has resulted in many great leaders in our health care system and I am sure it will continue to strengthen and evolve to be a key health leader training program over the next 50."
"I want to extend, on behalf of the classes of 1985 to 1989, a large measure of thanks to our professors, the Telfer School and the University of Ottawa for providing us with a solid foundation upon which to build our careers and, in many respects, our lives," said Donald Sanderson, MHA 1989.
Dean François Julien took this opportunity to announce the creation of the Telfer Health Transformation Exchange thanks to an initial $1 million investment from the School. The main purpose of the Telfer Health Transformation Exchange will be to contribute - through the exchange of ideas and best practices, and through research and education - to the transformation of health care delivery with the long-term objective of improving the quality of patient care while providing efficient and effective health services.
Several other great events were organized throughout the weekend, including professional development sessions.