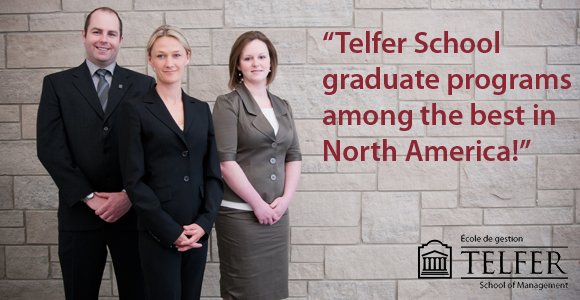 The Telfer School of Management, already considered an internationally known "TOP Business School / 4 Palmes" by Eduniversal, has now reached a new level of excellence. In fact, Eduniversal recently created an innovative ranking system that carefully assesses each individual program rather than business schools' overall performance. Because of its programs' strong reputation, the superior salary during first employment of its alumni and its high student satisfaction, the Telfer School stood out as one of the most competitive business schools not only in Canada, but in North America as well, in the new ranking system.
More precisely, The Telfer M.Sc. in Management stood out as one of Canada's top 5 graduate General Management programs and secured a place in North America's top 10, among other world leading business schools from Canada and the United States.
Furthermore, the Engineering Management Program (MEng) an interdisciplinary program combining Engineering and Information Technology Project Management jointly offered through the Telfer School and the Faculty of Engineering was recognized as the best graduate program in the Engineering and Project Management category in Ontario, 2nd in Canada and it placed in the 11th position in North America, making this innovative program a reference in the country.
To find out more about the Telfer School of Management accreditations and rankings, please click here.