The Certified General Accountants Association of Canada (CGA-Canada) has signed a gift agreement with the Telfer School of Management to support research development by a Telfer School research centre. The grant is provided to the CGA-Canada Accounting and Governance Research Centre (CGA-AGRC) for the year 2012-13 to fund current and upcoming research activities in the area of corporate governance, risk management, business and finance.
"CGA-Canada values research development and is known for our leading edge research on broad accounting, social and economic issues of the day," says Anthony Ariganello, president and CEO of CGA-Canada. "We are proud to support the Telfer School's research centre as part of our ongoing commitment to advancement of research that increases public awareness and adds value to the existing body of knowledge."
"The Telfer School is very grateful to CGA-Canada for their generous gift. Their contribution demonstrates the association's desire to invest in relevant, timely and influential research" said Dean François Julien. "We are proud to work with CGA-Canada to support our professors' research and we look forward to continuing our mutually beneficial relationship in the years ahead".
Through the CGA-AGRC, CGA-Canada will continue to support and work collaboratively with the Telfer School of Management.
For more information visit: www.cga.org/canada/research or www.cga-agrc.com
ABOUT CGA-CANADA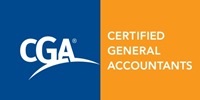 Founded in 1908, the Certified General Accountants Association of Canada serves 75,000 Certified General Accountants and students in Canada and more than 90 countries. Respected accounting and financial management professionals, CGAs work in industry, finance, government and public practice. CGA-Canada establishes the designation's certification requirements and professional standards, offers professional development, conducts research and advocacy, and represents CGAs nationally and internationally.
Visit us online:www.cga.org/canada
Find us on Facebook:www.facebook.com/cgacanada [This link is no longer available]
Follow us on Twitter: www.twitter.com/cgacanada