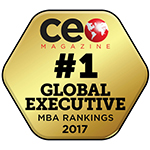 CEO Magazine (London, UK) has just released its 2017 ranking of the top Global Executive MBA programs and has ranked the Telfer School of Management's Executive MBA program #1 in the world.
Using a ranking system entirely geared and weighted to fact-based criteria, CEO Magazine aims to cut through the noise and provide potential students with a performance benchmark for those schools under review.
"Our program is honoured to be recognized by CEO Magazine. The Telfer Executive MBA focuses on a 'Global, Practical, Relevant' platform that accentuates 'Responsible and Effective' leadership for optimal business impact in an increasingly competitive global market", said Sophia Leong, Executive Director of the Telfer Executive MBA. "To be tapped by CEO Magazine as the premier Global Executive MBA program underlines the program's value proposition and impact on the candidates' transformation."
"I would like to acknowledge the outstanding work of the entire Executive MBA team, led by Sophia Leong, and all the faculty members who have taught in this program", said François Julien, Dean of the University of Ottawa's Telfer School of Management. "In addition, our EMBA candidates and alumni, through their professional successes and impact within their organizations and communities, are making a tremendous contribution to their program and to the Telfer School. I congratulate them sincerely on this remarkable achievement and encourage them to continue their excellent work."
The full ranking is available on CEO Magazine's website.
About our Executive MBA
The Telfer Executive MBA Program accelerates value in three distinct ways: business leadership, organizational impact and value to the community. Our program offers professionals a 'live' and transformative learning environment, focusing on international market and leadership experience to excel in today's global economy. The curriculum is anchored by the Signature Series of Six Business Consulting Projects, of which two are global in focus and involve two international business trips.
About CEO Magazine
CEO Magazine has been showcasing top business schools from around the globe since it first launched in 2008. In 2012, the publication launched its annual Global MBA Rankings, profiling MBA, Executive MBA and Online MBA programs.
This year CEO Magazine reached out to business schools across North America, Europe, Australia, New Zealand and the BRICS, and received responses from over 160 institutions – a 20 per cent increase in submissions from 2016.