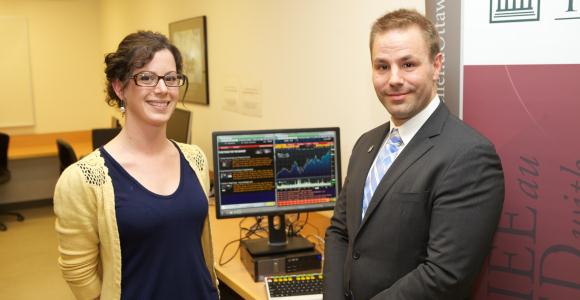 The Management Library and the Telfer School of Management have partnered in order to offer you Bloomberg Professional. Two dedicated workstations are located in the Management Library (DMS 2141) and are available on a sign-up basis.
This powerful multi-functional tool is used by market mavens around the world and now you too can have access to current and historical financial information. Bloomberg is the world's best-known interactive, financial information network. The service seamlessly integrates live, up to the minute data, news, analytics and multimedia reports into a single platform.
Get familiar with this resource and get ahead of the competition!
Take the Bloomberg Essentials Online Training Program which will signal to prospective employers that you have attained a standard level of competency in using the Bloomberg Professional Service. Four Bloomberg Core videos will familiarize you with basic Bloomberg functionality, while supplemental Market Sector videos will introduce you to major market fundamentals. Test your knowledge by taking the Core Exam along with any of the Market Sector exams, and earn an Acknowledgement of Completion with an 75% grade or better (1 retake of each exam will be allowed).
Stay tuned for further announcements about workshops and training dates!