Jeux du commerce
The 25th Jeux du commerce took place January 4 to 6, 2013, at HEC Montréal in Montréal, Québec. A delegation of 82 students represented the Telfer School of Management.
Congratulations to students for winning the following:
Operations Management Case (3rd place): Jayme Fallen, Branden Goodman and Andrej Rajic
Coach: Professor Jean Couillard
Taxation Case (3rd place): David Levell, Thea Temple, Meagan Thompson
Coaches: Professor Kathryn Pedwell and Simon Couvrette
International Business Case (3rd place): Aymeric Beard, Marc-Andre Bigras and Jennifer Viscosi
Coach: Professor Tyler Chamberlin
Volleyball (3rd place): Michel Bedard, Danika Chilibeck, Bryan Ip, Thomas Le, Catherine Nadeau, Pascale Nadeau, Dan Packer, Eric Prefontaine, Vincent Trottier
Coach: Jacob Legault
MBA Games
The 25th MBA games took place at the University of McMaster's DeGroote School of Business in Hamilton/Burlington, Ontario. For the first time, the Telfer School was represented by a full delegation composed of 40 students.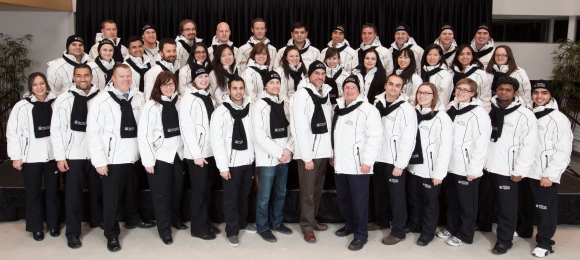 Inter-Collegiate Business Competition
Andrea kuntz and Jennifer Proulx competed in the HR case at the 35th annual ICBC (Inter-Collegial Business Competition) last weekend at Queen's University in Kingston, Ontario.