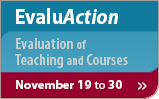 The next evaluation of teaching and courses will take place from November 19 to 30, 2012.
What is the purpose of the teaching and course evaluations?
The evaluations improve the quality of the learning experience.
Professors have said they find this feedback to be a valuable means of improving their teaching skills. What's more, some key aspects of the evaluation are part of the University's collective agreement with professors.
The main purpose is to obtain student feedback on a course and an instructor's teaching. This information can also help professors gauge their abilities and help other students learn about how a course was taught.
How do I participate?
Classroom courses
Fill out the questionnaire and comment sheet during the evaluation period.
Your professors may have asked that a customized evaluation related to specific aspects of their course be completed as well.
Web based courses
Via the uoZone portal, under the "InfoWeb" tool, and complete the official evaluation questionnaire.
Evaluation results (S-Report)
The evaluation results are available on uoZone. See what other students think!