If you happen to walk by the Desmarais building during the weekend of January 28-29, you'll be surprised to find 400 motivated students from all over Eastern Canada. These students, hailing from 11 different universities, will be meeting at the Telfer School of Management for a case competition called Financial Open (OF).
This type of competition gives students the opportunity to work together to solve case competitions in a three-hour timeframe, and then present recommendations to a panel of expert judges. For the Financial Open, students will present finance and accounting cases. This year, the theme of #OF2017 is "From Coast to Coast" – participants will explore the history and values of Canada and celebrate its 150th anniversary of confederation!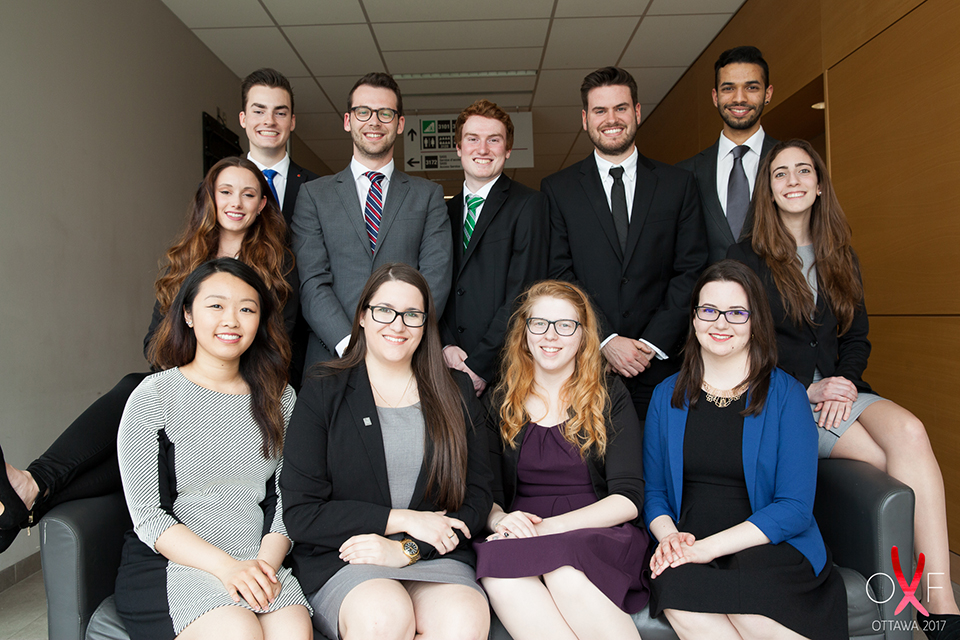 Top row, from left to right: Samuel Soucy (VP Logistics), Joshua Ayer (VP Communications), Philippe Moore (Director of Logistics), Kevin Saumure (VP Sponsorship) and Ryan Rahman (VP Finance). Middle row: Katarina Mrkela (VP Academic - Finance) and Kassandra Tannouri (Director of Logistics). Front row: Miranda Taing (VP Marketing), Kim Angèle Vallières (President), Andrée-Anne Martel (VP Academic - Accounting) and Sarah Morin (Director of Translations).
The Telfer School of Management and the University of Ottawa would like to extend a warm welcome to all Financial Open participants. We look forward to welcoming you on campus on January 28 for what will surely be an unforgettable weekend. Hosting the Financial Open is a great addition to the many events we are holding in celebration of the 10th anniversary of the Telfer naming gift!