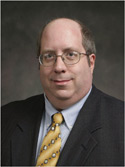 The Telfer School of Management welcomes Professor Michael Luthy, Fulbright Enders Visiting Chair, who will be working with the Telfer School until April 2011.
Michael Luthy is Professor of Marketing in the Department of Business Administration at Bellarmine University's W. Fielding Rubel School of Business in Louisville, Kentucky. He earned his bachelor's and Ph.D. degrees in business administration, specializing in marketing, from the University of Illinois and an MBA from the University of Iowa. Before joining the Rubel School Dr. Luthy was on the faculty of Drake University in Des Moines, Iowa and in 2005 at Reykjavík University in Iceland as a Fulbright Scholar.

His research interests include global and cross-cultural marketing; marketing and governmental activity; and business education. Dr. Luthy is widely published in marketing and related business journals. Numerous case studies, articles, and other writings of his have been published in a variety of U.S. national and regional conference proceedings, textbooks, pedagogical volumes, and newspapers.

In addition to his academic activities, Dr. Luthy consults with organizations and conducts training in marketing and business skills. He currently serves on the editorial review boards of the Journal of Marketing Education and the Academy of Marketing Studies Journal. For the last several years Dr. Luthy has also been a specialist reviewer for the Council for International Exchange of Scholars and the Fulbright Scholar Program.
Click here to read his complete biography (this link is no longer available)