It was another great success for our Entrepreneurship Bridges Lecture Series, which brought together the co-founders and co-CEOs of Surmesur, François and Vincent Thériault, and the Elevator Pitch Competition presented by the National Bank.
The annual Elevator Pitch Competition showcases some of the University of Ottawa's top talent. As a part of Global Entrepreneurship week, this competition allows young entrepreneurs to present their business ideas that are still in the early stages of development to a panel of judges and Rise to the Top. The winners are awarded with a generous cash prize that they can put towards furthering their business idea. "The competition is a great preview into what students are working on and what is to come. Entrepreneurs create jobs and grow economies and it's encouraging to see that our students are building the next generation of businesses, both traditional for-profits and social enterprises", mentions Stephen Daze.
The competition has two categories: validation and traction. Each category can make a big contribution to the development of a start-up, with prizes of $5,000 and $10,000 respectively.
Results: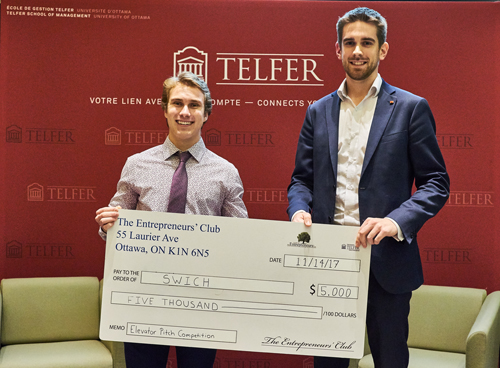 Validation Competition: Swich
Swich is a carbon air filter company utilized for odor elimination across many industries. It's the world's first reusable and biodegradable can-styled carbon filter and is the most economic, efficient and environmentally sustainable option on the market.
"We are in the beginning of a Green rush, and when everyone in mining for gold you want to be the one selling them shovels and pickaxes. Or in our case Carbon filters", said Adam Czach, Co-founder of Swich.
Traction Competition: Desk Nibbles
Desk Nibbles is a local uOttawa startup serving snacks across the country. They Strive to create the best customer experience and ensure providing their clients with the best snacks in Canada.
"Anyone can agree the work they do deserves to be treated with a snack once in a while. Desk Nibbles is a service that prides itself on delivering that treat straight to the employees of any office. Desk Nibbles delivers the best snacks to your office, so it can glow with varieties of taste tested, proven, premium healthy snacks. These snacks will energize the minds and bodies of the workplace. It's also a simple, painless process, no need to lift a finger. Simply signup online or call a representative to place an order. Then receive bundles of the best healthy snacks for to any office hassle free."
Visit their website at https://desknibbles.com/