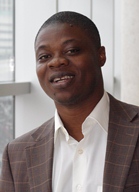 Lavagnon Ika of the Telfer School has received a prestigious prize from the International Project Management Association (IPMA) recognizing his research program on the supervision, management and critical success factors of international development projects funded by the World Bank. Professor Ika's work opens up promising opportunities for reciprocal contributions between the fields of project management and international development while laying the ground for new insights on best practices.
"Project practitioners in any industry can draw valuable lessons from other sectors and also learn a great deal from failure. All too frequently, projects fail because of mismanagement," says Professor Ika, who taught project management for twelve years at the Université du Québec en Outaouais in Gatineau before joining the faculty at Telfer last August. "International development projects in particular can be instructive, given their complexity as multisectorial, social, technical, and political undertakings."
IPMA presented Dr. Ika with a 2012 Young Researcher Award for his outstanding doctoral work and related scholarly output. Among his research contributions, Ika recently published "Critical success factors for World Bank projects: An empirical investigation," in the International Journal of Project Management, and he is the guest editor of a special issue at the Journal of African Business entitled: "Why do projects fail in Africa?"
Professor Ika received his award, presented his findings, and contributed to a panel of award winners on the practice insights emerging from the research at the 26th IPMA World Congress, October 29-31 on the Greek island of Crete.