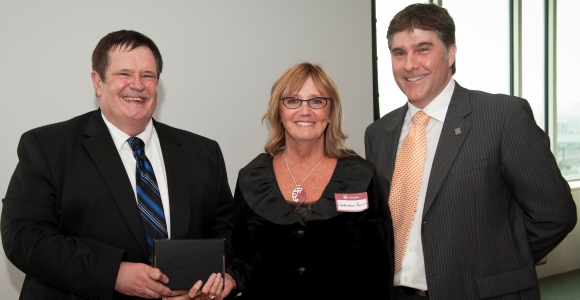 Professor Caro was awarded the Carmen Poulin excellence award for his outstanding contribution to Co-op teaching within the University of Ottawa, more specifically at the Telfer School of Management.
Dr. Caro initiated the Management Information Systems and Accounting Co-op programs in the 1980's, then launched all other Co-op programs at the Telfer School towards the end of the 1990's.
More recently, he has been maintaining a strong relationship with Co-op teaching and continues to offer outstanding support to students. He takes great joy in sharing his students' work experiences, personal growth and learning experiences. His passion and enthusiasm enable him to excel in his position as the Telfer Academic Co-op Coordinator and Full Professor.
Photo: Professor Denis Caro, Carmen Poulin and the Director of Co-op programs: Gaby St-Pierre