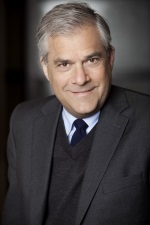 Congratulations to Pierre Bourgie, C.M., O.Q. (BAdm 1980) on his appointment as a Member of the Order of Canada on June 30, 2017 for his inspiring philanthropic work and for his significant contributions to the arts, music and the promotion of culture.
While pursuing his Bachelor of Administration at the University of Ottawa, Mr. Bourgie took an elective course in Art History, which he credits for igniting a life-long passion for the arts. Since then, he has been recognized for his contributions to Montreal's arts and culture community. Especially noteworthy, he is credited for transforming the Montreal Museum of Fine Arts' Erskine and American United Church into the Bourgie Hall, providing a concert space for chamber music featuring high-quality acoustics and a striking décor. This spring, he opened Catalogue, an exhibition space in downtown Montreal where he shares pieces from his private collection with the public at no cost.
Following his studies at the University of Ottawa, he took over the family funeral home business. After selling the 100 year old business in 1996, Pierre explored the worlds of finance and real estate. He founded the diversified investment company Société Financière Bourgie Inc, serving as President and Chief Executive Officer. He has also served on a number of corporate and not-for-profit boards.
On this momentous accolade, Dean François Julien said, "I am delighted that Mr. Bourgie has received this well-deserved honour recognizing the great impact and importance of his philanthropic work. We are proud to have an alumnus whose contributions to the arts and music have provided opportunities for artists to create, and for the public to appreciate visual and performing arts."
About the Order of Canada
Created in 1967, the Order of Canada, one of our country's highest civilian honours, recognizes outstanding achievement, dedication to the community and service to the nation. Close to 7,000 people from all sectors of society have been invested into the Order. Their contributions are varied, yet they have all enriched the lives of others and have taken to heart the motto of the Order: DESIDERANTES MELIOREM PATRIAM ("They desire a better country"). Appointments are made by the governor general on the recommendation of the Advisory Council for the Order of Canada.
For more information about the Order of Canada, click here.