Winning Giving
James Yersh - Donor of the Year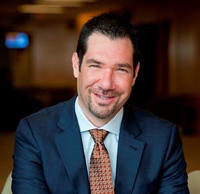 Giving makes sense to me for many reasons. Most of all, I have the means to give; and when anyone does, they should give to help others. It doesn't necessarily mean financially. You can also contribute your time, your expertise, or whatever else you have that people can benefit from. Giving to the Telfer School is especially sensible and important to me: the school gave me the tools I needed to get where I am now.
At the same time, when we at BlackBerry see new employees come in fresh from university, we recognize a knowledge void. Most graduating students have plenty of what I call book smarts. Yet they need more practical business smarts. The donation to the Telfer School that my family has made through the Yersh Family Pedagogical Innovation Fund is essential in helping narrow that gap between the theoretical and applied. By putting money toward developing new teaching techniques and programs, as well as revamping some existing ones, my family's giving will equip Telfer School students with more practical business knowledge and make these students more workplace-ready.
I think of this giving as a win-win-win. Companies win by getting graduating Telfer students armed with book smarts and practical smarts. Students win because the programs and techniques will give them a leg up on others in getting the kinds of jobs and careers they want. And the Telfer School itself wins because these new teaching techniques and programs will differentiate the school from others when competing for top talent. This kind of winning giving is also a lesson for other Telfer School alumni: Find something worthwhile from your own real-life experience and translate it into a donation that moves everyone ahead—especially the Telfer School and its students.
---
We invite you to read other examples of the positive impact that our other Donor Award recipients have made:
"A Culture of Giving" - Gabriel Bouchard-Phillips, BCom 2005
Young Donor of the Year
"The Power of Modesty" - André Cardinal, BCom 1969
Loyal Donor of the Year
"Find a Path to Giving" - Patrice Marceau, BSc 1981, MBA 1985, LLL 1985
Fundraising Volunteer of the Year
Find out how you can donate to the programs and projects that matter most to you.