A Culture of Giving
Gabriel Bouchard-Phillips - Young Donor of the Year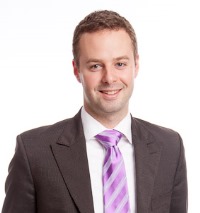 I believe in paying it forward. While a Telfer BCom student, I relied on several scholarships. This support not only helped ease the financial burden of a university education, but it also made me a better student by enabling me to focus on my studies and experience the fullness of life at the Telfer School—the classes, clubs, competitions, community and comradeship. Now that I've graduated and enjoyed some professional success, I want to ensure other Telfer students can benefit from those same experiences.
The scholarship I set up in my name goes to the incoming student who demonstrates financial need and has a track record of community involvement. I stress being involved in the community because it plays such a significant role not only in improving the lives of those around you, but also making superior students. I'm living proof. The scholarships I received made it possible for me to contribute to the Telfer community and Ottawa, and this contribution made me a better student and person.
My decision to set up the scholarship was also inspired by the example of Ian Telfer's gift and major contributions from the Desmarais family and other prominent Telfer School alumni. These donations are helping build a culture of giving at our school. Giving should be a natural part of alumni life because each of us has something to give—whether it's our time, our money or our skills, or all three. I want to be part of that culture, and do even more in the years to come to help it grow. I have an obligation to contribute to it—to pay it forward so today's students can experience the full richness of life at the Telfer School just as I did.
---
We invite you to read other examples of the positive impact that our other Donor Award recipients have made:
"Winning Giving" - James Yersh, BCom 1996
Donor of the Year
"The Power of Modesty" - André Cardinal, BCom 1969
Loyal Donor of the Year
"Find a Path to Giving" - Patrice Marceau, BSc 1981, MBA 1985, LLL 1985
Fundraising Volunteer of the Year
Find out how you can donate to the programs and projects that matter most to you.