Calling all entrepreneurship ecosystem leaders, including program managers, educators, trainers, advisors, and mentors of start-up and accelerate programs.
In partnership with Invest Ottawa, this one-day online conference, partially hosted by Dean Stéphane Brutus, will help you to create more inclusive programs to engage diverse founders and students, as per Professors Barbara Orser and Catherine Elliott work on the Gender-Smart Entrepreneurship Education & Training Plus (GEET+) report.
Join us online!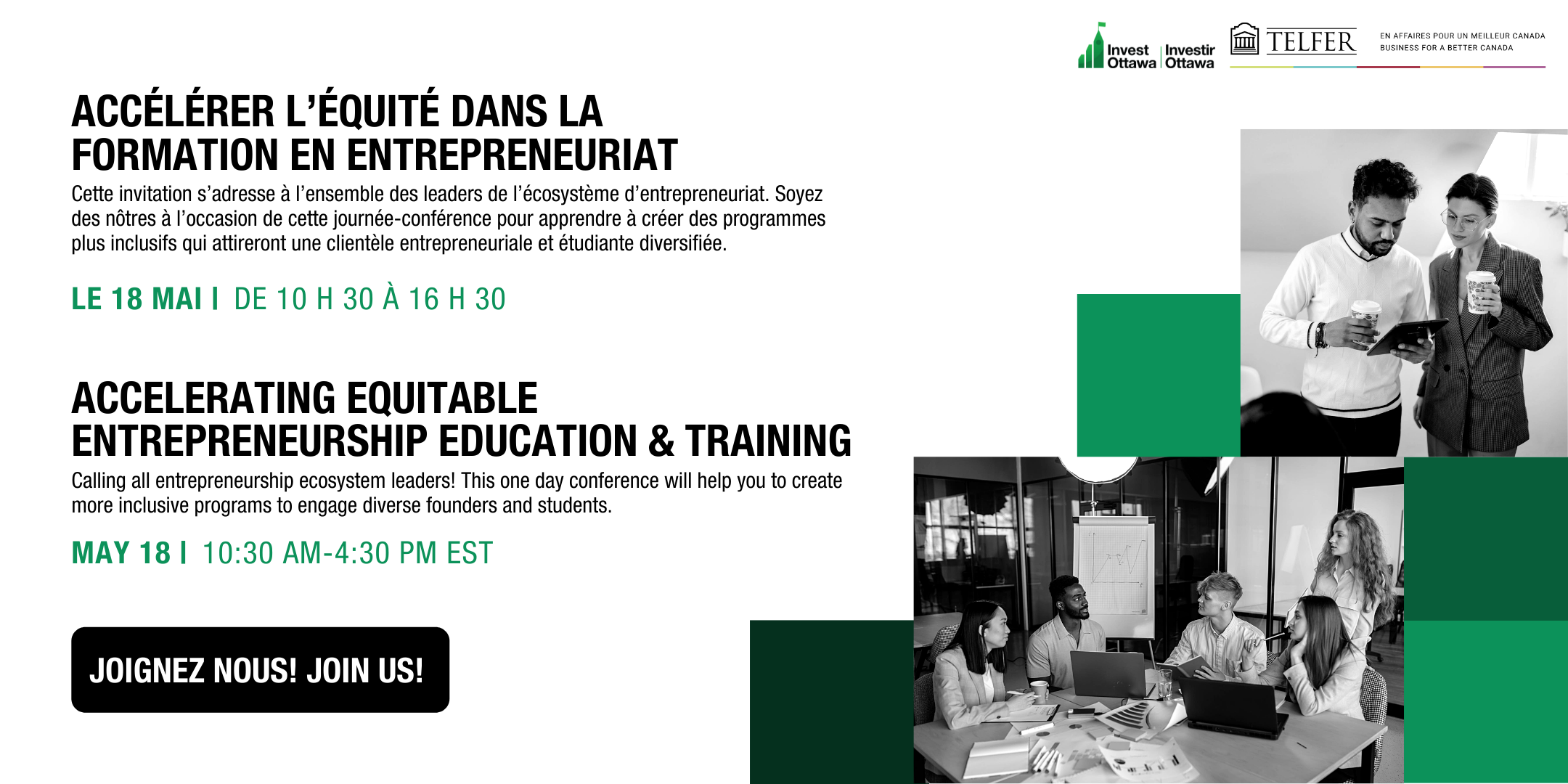 About this event
Inclusive and equitable entrepreneurship education and training is needed to empower all entrepreneurs (McKinsey & Company, 2020). Eliminating biases in entrepreneurial ecosystems, including programs and courses will engage a broader community of founders and students and create healthier learning environments. International research, including studies conducted at Telfer School of Management, University of Ottawa, report that leaders would like to create more inclusive ecosystems, programs, and courses, but are unsure how to do so.
The online event will enable you to :
Learn how industry leaders operationalize inclusion across entrepreneurship ecosystems to engage diverse entrepreneurs and students, with a focus on courses and programs.
Mobilize knowledge through the application of the Gender-smart Entrepreneurship Education and Training Plus (GEET+), an evidence-based framework and assessment tool to inform program design, content, delivery, and evaluation.
Engage in meaningful conversations about the drivers and challenges of inclusion, and networking to accelerate inclusive entrepreneurship courses and programming.
Invest Ottawa and Telfer School of Management are pleased to host this one-day conference targeted at those who manage, develop, and deliver entrepreneurship and small business programs, education and training, and advisory services.
Agenda
Panel 1: Strengthening equitable entrepreneurial ecosystems
10:30 a.m. – 12:00 p.m.
Panel 1 will showcase practices, strategies, and tips to accelerate inclusive entrepreneurial ecosystems. / Les panélistes présenteront des pratiques, des stratégies et des conseils à appliquer pour accélérer l'inclusivité des écosystèmes entrepreneuriaux.
Panelists
Jill Earthy, CEO, InBC Investment Corporation
Karen Greve Young, CEO, Futurpreneur
Carol Anne Hilton, Founder, Indigenomics Institute
Fay Horwitt, CEO & President, Forward Cities
Darrell Schuurman, Co-founder, CEO, Canada's LGBT+ Chamber of Commerce (CGLCC)
Panel 2: Practices that bolster inclusive entrepreneurship education and training
3:00 p.m. – 4:30 p.m.
Panel 2 will focus on evidence-based practices to create inclusive entrepreneurship courses and programs.
Panelists
Janey Buzugbe, Head, Black Innovation Programs and Partnerships, DMZ, Ryerson University
Karen Dalkie, Vice President, Canadian Bureau for International Education
Nataly DeMonte, Director, The Fifth Wave, Canadian Film Centre
Jennifer Francis, SheBoot, Invest Ottawa
Ondine Hogeboom, Partner, Women of Ontario Social Enterprise Network (WOSEN)
Moderator Dr. Stéphane Brutus, Dean, Telfer School of Management, University of Ottawa