Inspiring Women Connect
Organized in partnership with FINTRAC
Deadline: October 16, 2023,
---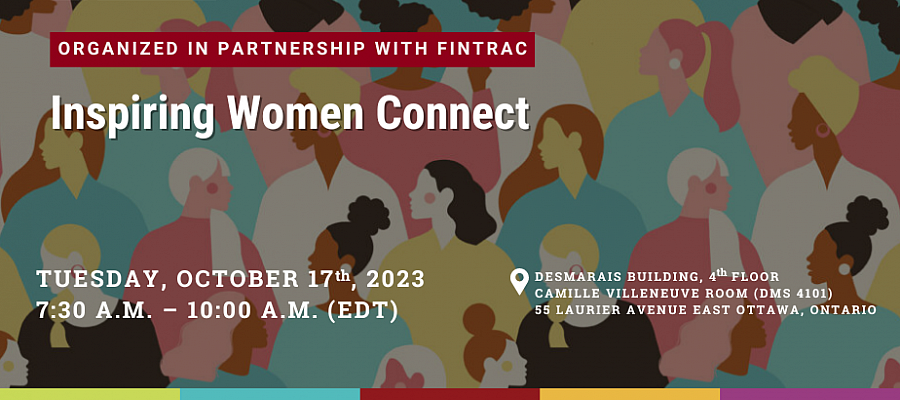 Join us for a morning of empowerment and connections at the Inspiring Women Connect Networking Breakfast. This event will serve as a platform for fostering meaningful connections, sparking insightful conversations and amplifying women's voices in various industries. Bringing together accomplished women in executive roles and students, new graduates, women in the first five years of their careers and women returning to the workforce after an absence, this event will feature opportunities to share, learn and inspire.
Inspiring women, diverse fields: Featuring accomplished women mentors excelling in their fields. From government to private sector to academia — you'll make connections with at least four inspiring women.
Elevating connections: Designed to break down barriers and encourage genuine interactions, the speed networking format allows you to engage in a series of brief, focused conversations. Additionally, you'll have a chance to network with other attendees.
Energizing atmosphere: This event is all about positivity, support and shared ambition to bring out the best in each other. Be prepared to be inspired…and have fun!
Inclusion and diversity: Inspiring Women Connect strongly emphasizes inclusion, inviting women from all backgrounds, ethnicities, ages and industries to take part. This diversity enriches the event by fostering a broad range of perspectives and experiences. 
Inspiring Women Connect isn't just a speed networking event — it's a catalyst for collaboration and a powerful reminder of the potential that exists when women come together to uplift and empower one another. Whether you're looking to expand your network, gain fresh insights or just be inspired, this event promises to leave you motivated and energized to embrace new horizons in your personal and professional journeys.