How to be a Climate Optimist
SDG Week - Advancing the Sustainable Development Goals on University and College Campuses
---
In this presentation, Chris Turner distills 20 years on the climate solutions beat worldwide into a powerful case for optimism in the face of the challenge of climate change. Turner has been reporting on emissions reduction, sustainable business, and smart design and policy the world over since long before any of these were mainstream interests, and he draws on the full breadth of his extensive reporting to paint a vivid portrait of a global energy transition already tackling the climate crisis and pointing the way to a much brighter future.
SPEAKER'S BIOGRAPHY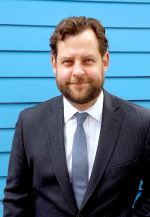 Chris Turner is one of Canada's leading voices on climate solutions and the global energy transition. His latest book is How To Be A Climate Optimist, a survey of the first two decades of progress on solutions to the climate crisis. His previous books on climate, energy and technology include multiple bestsellers and winners of the National Business Book Award, the City of Calgary's W.O. Mitchell Book Prize, and the Writers' Union of Canada's Freedom to Read Award. His essays and features on energy, climate and technology have appeared in The New Yorker, The Guardian, The Globe & Mail, Maclean's, and many other publications, and won 10 National Magazine Awards. He was a 2019 media fellow at the Berlin Energy Transition Dialogue, a 2013 writer-in-residence at the Berton House in Dawson City, Yukon, and a 2010 Paul D. Fleck Fellow at the Banff Centre. He lives in Calgary with his wife, the author Ashley Bristowe, and their two children.
Conference presented in collaboration with the Centre for Environmental Law and Global Sustainability Faculty of Law, Telfer School of Management, Department of Communication and Faculty of Education, University of Ottawa.
---
We are participating in #SDGWeekCanada March 6-10! We're proud to be one of the many institutions across Canada developing #SustainableDevelopment programming, which includes this event, for this campaign.