We have the honour of sitting down with two of Canada's most influential women leaders, who were willing to take risks when leadership opportunities presented themselves.
Join the Telfer Scho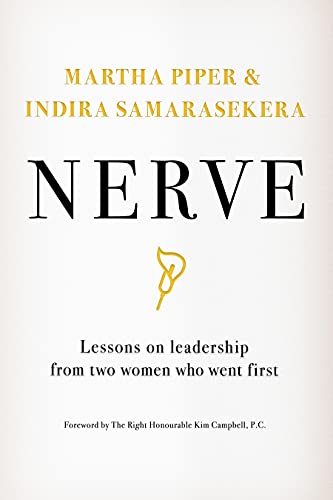 ol of Management's EMBA Director & Associate Professor, Charlotte Karam Ph.D. as she moderates this candid and insightful conversation with Martha Piper O.C., O.B.C., Ph.D. and Indira V. Samarasekera O.C., Ph.D..
Together, they will elaborate on the content of their new book "Nerve: Lessons on leadership from two women who went first"; share their personal and professional stories and offer guidance for women leaders of every age and at every stage of their career.
Topics explored will include different approaches for effectively handling obstacles, strengthening emotional intelligence, issues around intersectionality and developing the skills necessary to stand out as a leader among both men and women.
As the Right Hon. Kim Campbell, P.C. expressed in the foreword: "Nerve is a must-read for any woman who is leading today, considering leading, or thinking about life after leading."
Question and Answer Period
There will be an opportunity for the audience to ask questions during the Q&A portion at the end of the moderated chat.
Note: All are welcome to attend this inclusive event! We welcome allies who are committed to creating environments that are supportive of people who are typically underrepresented in the workplace and beyond.
Ticket Prices:
Telfer or uOttawa Alumni, Student, Faculty or Staff Ticket: $0
(Note: does not inlcude e-book.)
Professional Ticket: $15
(Note: does not inlcude e-book.)
Ticket with E-book Included: $25
Event Schedule
8:00 – 8:40 a.m.: Panel discussion with Martha Piper and Indira V. Samarasekera
8:40 – 9:00 a.m.: Q&A period
9:00 a.m.: End of event
Speakers
Moderator