Au cours des prochains mois, le Carrefour du savoir Telfer publiera des extraits du livre intitulé Enabling Next Generation Legacies: 35 Questions That Next Generation Members in Enterprising Families Ask.
---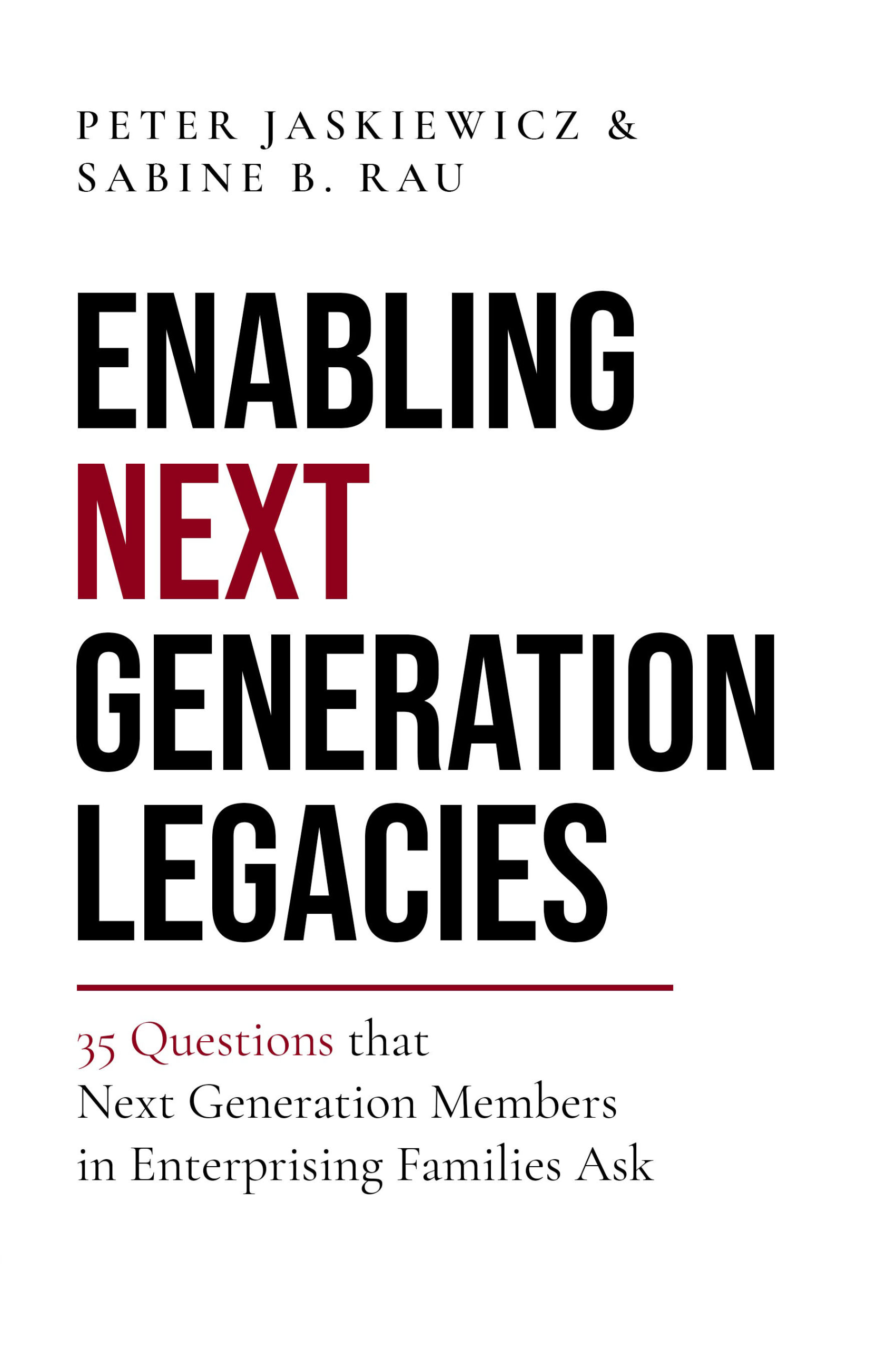 Résultat de nombreuses années de recherche et d'expérience pratique à l'échelle internationale, cet ouvrage s'intéresse aux défis particuliers auxquels font face les entreprises familiales.
Peter Jaskiewicz et Sabine Rau, membres du corps professoral de l'École de gestion Telfer, ont réuni des universitaires, des familles entrepreneuriales ainsi que des praticiennes et praticiens mondialement reconnus afin de répondre, de manière brève, concise et néanmoins pertinente, aux questions les plus pressantes auxquelles est confrontée la prochaine génération.
Fort de l'apport de quelque cent collaboratrices et collaborateurs issus de 27 pays, le livre présente les pratiques exemplaires, des exemples concrets ainsi que des questions essentielles visant à susciter la réflexion. Les commentaires d'experts proviennent de membres des entreprises familiales les plus importantes du monde, dont Auchan (France), Saputo (Canada), and Sabra (Israël), ainsi que de divers spécialistes universitaires travaillant dans des écoles de gestion renommées telles que Kellogg, IMD, et INSEAD.
Vous trouverez ci-dessous la réponse à une question pressante qui se pose aux entreprises familiales.
L'article suivant (dans sa version originale anglaise) présentera le commentaire d'une personne de la prochaine génération au sein d'une entreprise familiale.
Who Is Considered Part of the Family?
Response by Gibb Dyer, US
The question "who is considered part of the family" is important for both academics and consultants who study and work with family businesses as well as family business owners and managers themselves. For academics and consultants, identifying who is considered family is key to determining a family's impact on a business (and the business on the family) while those families who own and manage a business often need to decide if those who are considered family will have an opportunity to be involved in the ownership or management of the business.
Definition of "Family"
To identify who makes up a family we need to understand what people commonly consider a family to be. The definition of family is problematic today given the various types of families that exist. For our purposes, a family will be defined as "individuals who identify themselves as a family unit, are recognized by others as part of a family, and share a common biological, genealogical, and/or social history."[i]
Families come in all shapes and sizes. Common family types include the nuclear family (father, mother, and often children), extended family (one or more children living with a parent and a related nonparent adult, often a grandparent), blended family (one or more children living with a parent and a stepparent), cohabiting family (one or more children living with a parent and an unrelated adult), a single adult/parent family, and a polygamous family (typically one or more children living with a father who has multiple wives).
Family as a Social Construction and Legal Entity
These different family configurations raise interesting questions concerning who is considered family. For example, should a child consider an unrelated adult cohabiting with her mother a family member? Or should a child consider the children of a stepparent members of his family? While there are legal determinations of what constitutes a family, very often family is a social or cultural construction created by family members. For example, while a stepparent might legally adopt a child, that child may not recognize or relate to the stepparent as her father or mother. In other situations, there are parents who "disown" their biological children—the parents may be biologically related to a child, but they do not recognize that child as a member of their family, often due to what the parents consider bad behavior on the part of the child. However, when it comes to inheritance, unless a family member is explicitly denied an inheritance in a family member's will, they might still have a claim on that family member's assets—particularly if that person is a blood relative or a spouse —and those assets might include the family firm.
Family Roles in the Family Firm
We see families who own and manage family businesses having family members take on a variety of roles in the business. Ownership and management roles in the business typically consist of family members who are central to the business and have the most power. Other family members may have management roles but are not involved in ownership. Often Next Gens fill this role but hope to eventually be owners when succession occurs. Conflicts may occur when certain family members own the business but are not managers in the business. Family members who are in the business typically benefit from their salary and other perquisites that managers receive and are generally interested in putting profits back into the business to help it grow. However, family members who are owners and not managers typically want the profits from the business to end up in their pockets so they can benefit from the business' success. This creates natural conflicts between family members who are owners and family members who are managers in the business (and may be owners as well). During succession, family members who haven't been either owners or managers may want to lay claim to the firm's assets increasing the likelihood that family conflicts will occur. Even if a family member hasn't been involved in owning or managing the business, she may lay claim to the firm's assets based on inheritance or some other criteria. For that reason, it is important for a family to determine not only who is currently considered family but who in the family may have a legal claim to the family's business assets.
Family Membership and Succession Planning
Family conflicts and lawsuits are often the result of ambiguity regarding "who is the family." With that in mind, it is important for families who own businesses to identify all individuals in the family who currently or may in the future be involved in family business ownership and management, take those family members into account when making decisions regarding the firm, and make provisions for those family members who will likely not be owners or managers. The rule of thumb is for parents (or other senior family members) to leave other assets in their wills (money, property, etc.), not family business ownership, to such heirs to avoid conflicts.
These issues are also important to consultants who want to help family firms.[ii] Research shows that before succession takes place the family should put together a clear succession plan, specifying which family members will be owners and managers in the business. It is important to share that plan with the family before succession takes place. To do this, the family needs to identify who is legally considered a member of the family and thus may have legal claims to the firm's assets as well as those who may not be considered legal claimants but are viewed to be family members with many of the privileges of legal family members. To plan for such a change, research by Ivan Lansberg and others encourages family members to have common goals or a "shared dream" along with creating ownership structures and processes to resolve these potential conflicts.[iii]
W. Gibb Dyer (PhD MIT) is the O. Leslie and Dorothy Stone Professor in the Marriott School of Business at Brigham Young University. He has been a visiting faculty member at IESE in Barcelona, Spain, and a visiting scholar at the University of Bath. He has published nine books and over fifty articles and his research has been featured in Fortune, The Wall Street Journal and Fast Company. His recent book, The Family Edge, focuses on how "family capital" supports business growth. He has been ranked as one of the top ten scholars in the world in the field of family business.
Commentary by Marcelo De Rada Ocampo, Bolivia
My family's business is an international insurance brokerage in Bolivia. After a decade of experience working for both U.S. and Bolivian insurance companies, my father started the business in 1995 and grew it to become the largest brokerage in Bolivia in terms of revenue, clients, and number of sales agents with presence in all cities in Bolivia. In 2009, he and two partners from Ecuador and Venezuela developed a strategic alliance that made them the third-largest MGA (managing general agent) in LATAM, partnering with ten different international insurers, managing hundreds of distributors, and operating twelve offices across seven different countries.
I am the oldest of three from my father's second marriage. My half-sister is thirty-seven and lives in Florida, while my younger brother (twenty-five years old) is in San Diego, and my younger sister (twenty-two years old) lives in Miami. After studying in the U.S. and working at start-ups in San Francisco for two-and-a-half years, I returned to Bolivia to help my father in the family business. I worked as a sales operations manager, splitting my time between empowering sales agents with training and new digital tools, and the insurance partners negotiating new policy coverages, premium increases, and sales incentives. Now, while I am doing my MBA at INSEAD, I continue to support my father as an advisor, holding weekly to biweekly calls with him to discuss the strategic and operational challenges of the business.
The article is a good starting point in understanding why it is important to define who is considered part of the family in a family business. I agree with Prof. Gibb Dyer that having a clear definition is essential in helping the first generation build a fair process with regards to the ownership and ownership of the business. This can be critical when future generations start getting involved in the business and don't have the same understanding of who is considered part of the family and its impact on the business. Even just as a second generation, I frequently found myself between my two parents in discussions about the fairness of financially supporting struggling family members in each of their extended families. There were efforts of providing employment to extended family members, which ended up creating more harm than good, probably caused by the lack of clarity regarding the roles of each family member in the family firm. From my experience without clarity about the rights and responsibilities of owners and managers, succession planning has been difficult to push forward. An owner must understand and allow the manager to operate the business successfully, while the manager must also provide the owner with enough transparency on the strategic alignment and execution of the business in order to put to best use the business assets.
L'ouvrage intitulé Next Generation Legacies sera offert en version numérique dès le 6 décembre 2021. La sortie de l'exemplaire imprimé est prévue le 8 février 2022. Visitez le site www.35questions.com pour plus de détails.

Pour en savoir plus, visitez le site de l'Institut de l'héritage des entreprises familiales et inscrivez-vous à notre bulletin électronique pur en apprendre davantage sur la façon dont Telfer alimente la discussion sur l'avenir de l'entrepreneuriat familial,
Références:
[i] Gibb Dyer, The Family Edge: How your biggest competitive advantage in business isn't what you've been taught—It's your family (Sanger: Familius, 2019), 15.
[ii] Jane Hilburt-Davis and William Gibb Dyer, Consulting to family businesses: Contracting, assessment, and implementation (San Francisco: Jossey-Bass/Pfeiffer, 2003).
[iii]Ivan Lansberg, Succeeding generations: Realizing the dream of families in business (Boston: Harvard Business School Press, 1999).