« Another Successful Business Trip to New York City »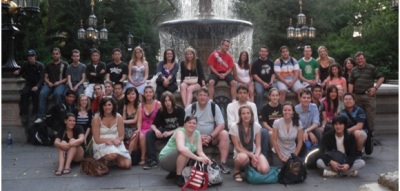 This past summer, a group of 40 students from Prof. Gilles LeVasseur's International Business and Business Law classes at the Telfer School of Management traveled to New York City. This gave the students the opportunity to truly experience the excitement of a business trip in another country while gaining great insights about numerous facets of business.
In fact, they traveled by coach bus and were back in Ottawa within 35 hours! They had 18 hours to spend in the "Big Apple". An intense schedule of activities planned throughout Manhattan required them to be quick on their feet, and test their ability to adapt to a face-paced New Yorker lifestyle.
An early morning walk gave the group the chance to see key landmarks, such as City Hall, Ground Zero, the Statue of Liberty, the Charging Bull and the Trinity Church. By then, the group were right into the middle of the morning bustle of Wall Street, where they had the chance to see the New York Stock Exchange building and head offices of many American banks. They also had tours at the Federal Reserve Bank of New York, where they learned about its important role in the economic and financial systems, and the Museum of American Finance, where the first bank of the United States of America was formed.
After taking the subway and eating lunch in the central section of the island, the group had the chance to receive a special presentation about the Canadian and USA economic and trade relations from John McNab, the Deputy Consul General of the Canadian Consulate General in New York. The group next entered international territory when visiting the United Nations headquarters, where they learned about great humanitarian goals and projects. Finally, the group was welcomed at the headquarters of USA's largest advertisement agency, JWT. A personal tour of the creative, collaborative and motivational workspace has inspired a great number of students to work for such a dynamic organization.
"Organizing such a trip was such a great and exciting experience! Not only do I now understand how to best deal with another country, but it has opened my eyes to new opportunities." says Danielle Perreault. In fact, much of the logistics of the trip were organized by students.
Students also had the chance to explore the city as tourists for the remainder of the evening. Some watched a Mets baseball game, others crossed the Brooklyn bridge, and most took advantage of the many shopping attractions of Times Square. The trip was overall a huge success! Such a trip is a great avenue for preparing students to assume leadership positions in today's global economy.
A trip to Boston is to be planned for the 2010 Fall semester. It is an opportunity every student should take advantage of!
by: Danielle Perreault, Mark Mortera and Kimiko Saso