The Career Development Certificate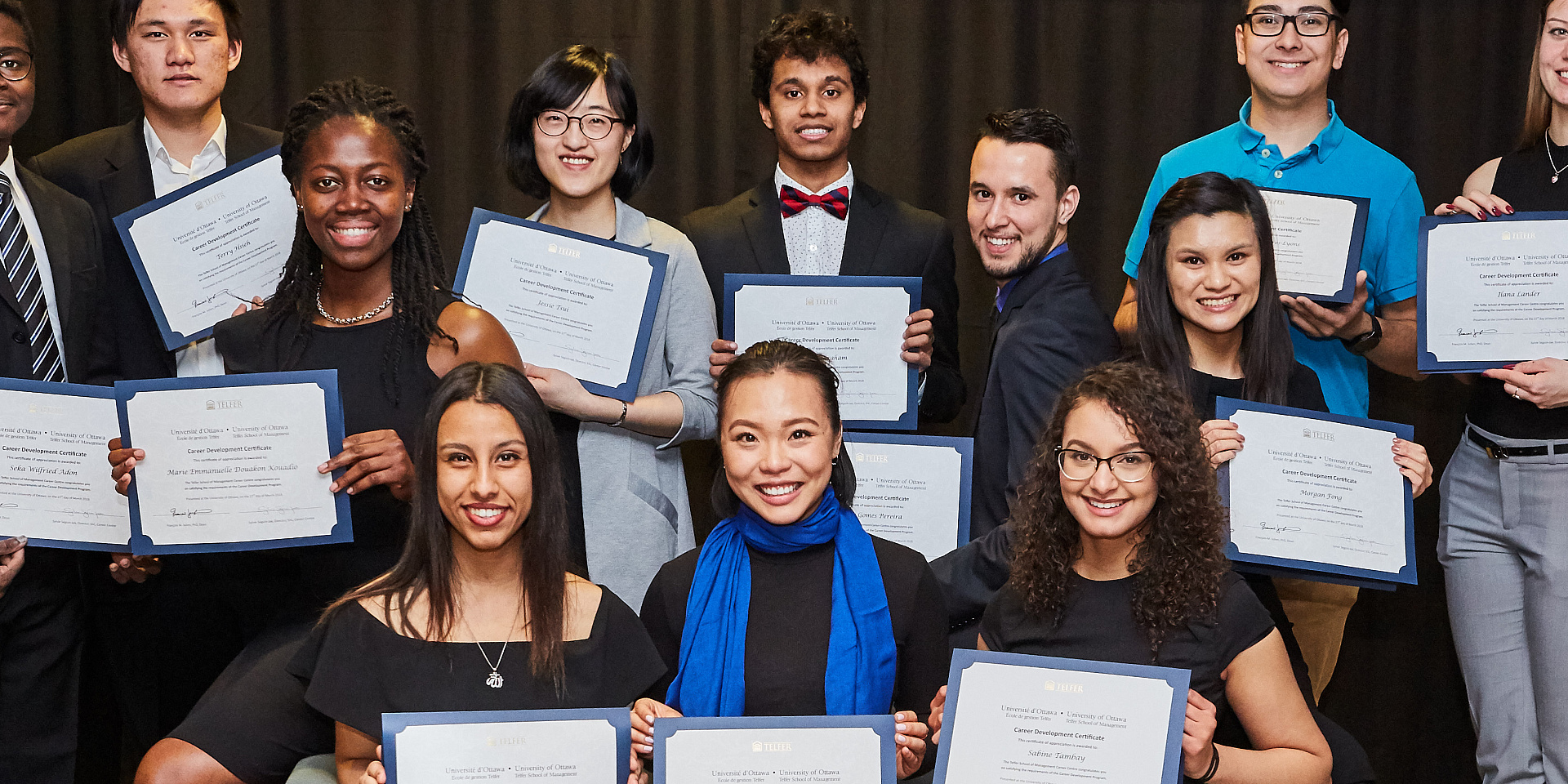 by Morgan Fong
4th-Year Student in Management
The Career Centre provides many opportunities for students to learn and develop the necessary skills to be successful graduates. The Career Development Certificate (CDC) is designed for students to gain tangible skills that will set you apart from others candidates during your career planning process.
Completing the Career Development Certificate involves attending 10 Career Centre activities: 8 mandatory and 2 optional. The full list of activities included in this initiative can be found on the Career Centre website.
One of the mandatory activities is attending one of the two Career Centre's annual networking events: Telfer Connects or Telfer Networks. Telfer Connects occurs in September and intended for 3rd‑ and 4th‑year students only. Telfer Networks is open to all Telfer undergraduate students and runs in January. Both events are a great opportunity to network with potential employers and build those professional connections! The workshops required for the CDC are: Who am I: Self-Assessment and Career Testing, Jump Start Your Job Search, Rock your Resume, Ace Your Interview, and Network Like a Pro. Additionally, one needs to book an individual resumé critique and a practice interview with the Career Counsellor or the Professional Development Coordinator. Having your resumé looked over and conducting a mock interview will allow you to feel more comfortable and confident in interviews with employers.
There is a wide range of optional activities that you may choose from to fulfill the requirements. If you are looking for a more casual, smaller group environment, the "Let's Talk" Series is a good option. You could also book an individual appointment with a Career Counselor to discuss goal setting, job search strategies, industry information, etc. The different Mentorship and Development Programs, including the Professional of Management Consulting Program, the Capital Markets Program, and the Connexions Program can also count towards the CDC.
With the new Career Launch portal, your progress will be automatically tracked and you can see which activities you have left to complete the certificate. Every March participants are invited to attend the Career Centre Celebration to acknowledge those who have completed the initiative and receive an official certificate of completion.
Having completed the Career Development Certificate myself, I can definitely attest to how it has helped me both personally and professionally. Employers are impressed when students attend numerous workshops outside the classroom to continuously learn and improve transferrable skills that are valuable in the workforce. I'm glad I was able to experience this opportunity and hope you consider receiving your Career Development Certificate!