Electronic Business Technology students shine in the 2018 Engineering and Computer Science Graduate Poster Competition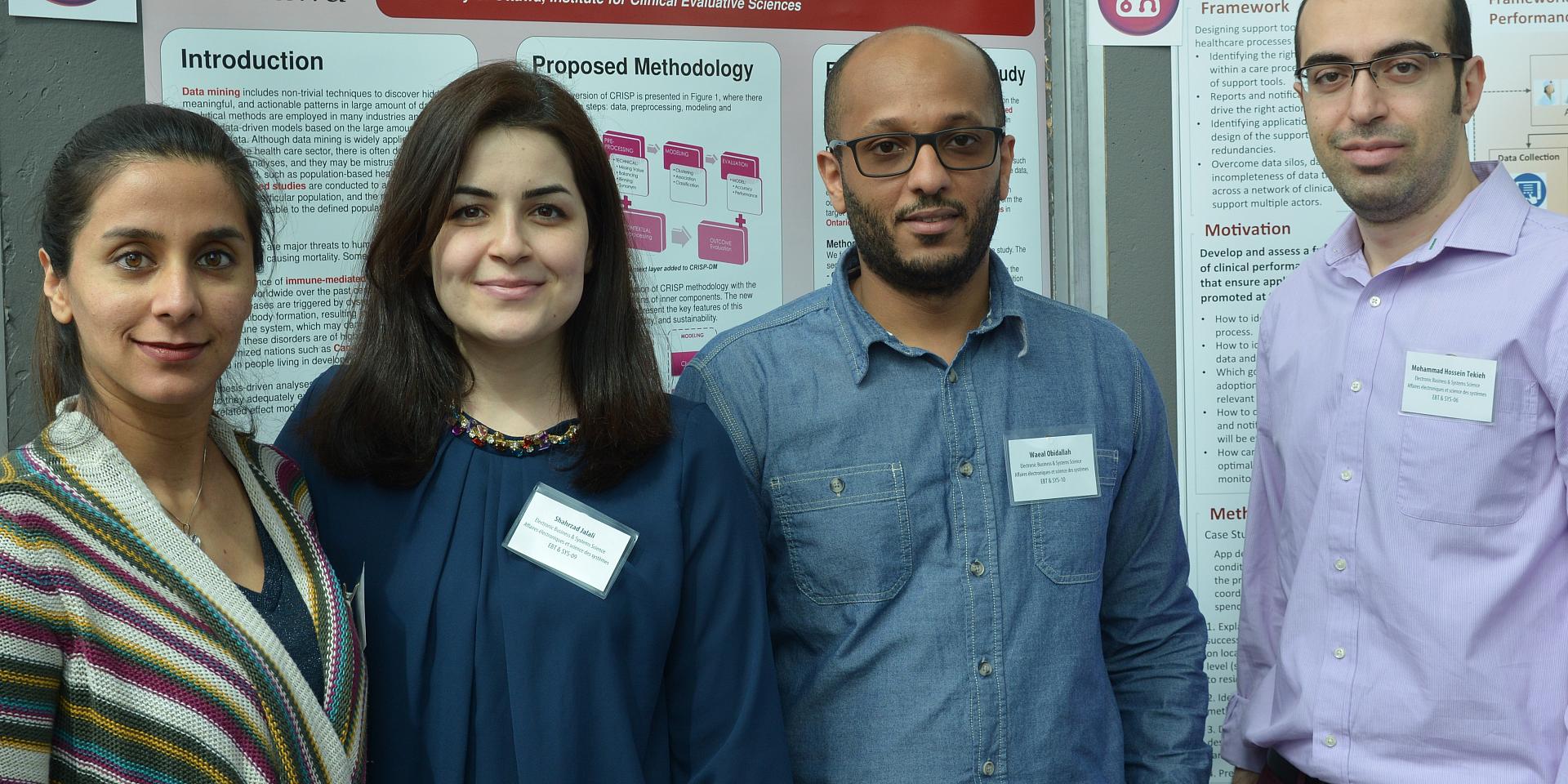 Five graduate students in the Electronic Business Technology program (EBT) presented their research projects in the 2018 uOttawa Engineering and Computer Science Graduate Poster Competition. The competition was held on March 27th at the Faculty of Engineering.
Mohammad, Wael, and Ahmad were among the winners of the competition. Mohammad and Wael are both PhD students supervised by Telfer School Professor Bijan Raahemi in the EBT program, a joint Telfer-Engineering and Computer Science graduate program. Ahmad is co-supervised by Telfer School Professors Craig Kuziemski and Pavel Andreev.
Congratulations to all Telfer School participants! Here are the summaries of the winning research posters:
Mohammad Hossein Tekieh: "A Methodology for Reliable Data Mining on Population-Based Health Administrative Data"
Mohammad proposes the use of data mining to analyze population-based health administrative data. Health administrative data contain valuable information such as demographics, environmental factors, and diagnosis codes. By using this methodology, health care professionals could identify valid findings and important patterns in the data that other analytical tools in the system may not allow them to find. As a case study, Mohammad looks at the possibility of implementing a predictive model in pediatric units in which patients suffer from immune-mediated diseases, such as asthma.
Wael Obidallah: "A Multilayer Hybrid Data Mining Architecture for Web Services Discovery"
Companies are constantly improving and adapting to develop web services that match web users' needs more effectively. Every day users search for the right web services in a wide range of applications in their computers, smart devices, and websites. However, finding the right web service can be a challenge depending on what internet users want and need. Using a data mining technique, Wael proposes a solution that could help enterprises more effectively match the right service to their diverse clients' needs.
Ahmad Teymouri: "E-Commerce Parcel Volume Challenge for Postal Services - Application of Revenue Management in Capacity Planning"
The current shift towards e-commerce business has increased the number of parcel moving through postal delivery networks. Although online sopping has major advantages for online retailers and their clients, this new trend has however created serious challenges for postal organizations. Ahmad proposes a model that could help postal services in many ways. For example, it could improve the allocation of existing processing capacity while maximizing their expected revenue.