Ontario Inclusive Innovation (i2) Action Strategy releases report on the status of supports for Ontario women entrepreneurs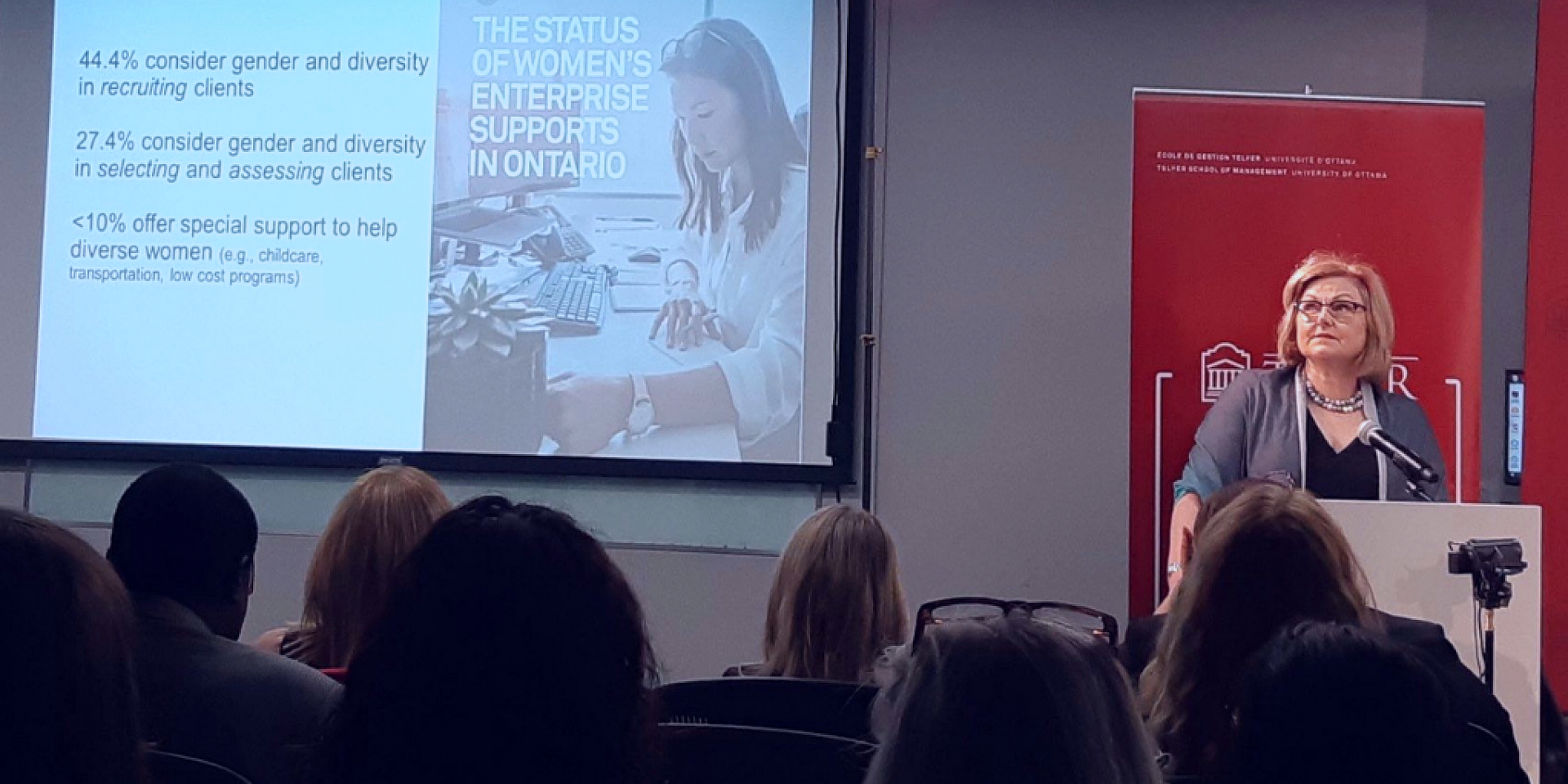 On June 13, 2019, Telfer School of Management Centre for Executive Leadership hosted the Ontario Inclusive Innovation (i2) Action Strategy conference. The event launched a new report, Strengthening Ecosystem Supports for Women Entrepreneurs, and provided industry leaders with opportunities to discuss strategies to further engage women-identified entrepreneurs in Ontario small business and innovation support organizations.
The groundbreaking report profiles the state of small business supports for women entrepreneurs in Ontario, and advances recommendations to create more inclusive entrepreneurial ecosystems. Telfer faculty Dr. Barbara Orser and Dr. Catherine Elliott collaborated with Dr. Wendy Cukier, Director of the Ryerson Diversity Institute to conduct the gender-based assessment of Ontario intermediaries.
The i2 conference brought together a spectrum of influencers, including leaders of small business and innovation support organizations and industry networks, academics, policymakers and champions of Canadian entrepreneurs. Attendees interacted with women enterprise experts who are employing good practices to support equality, diversity and inclusion. Workshops enabled participants to build a portfolio of diversity assessment tools and client support resources.
Access the i2 report and video through Telfer Women Entrepreneurs Knowledge Exchange. Live streaming of two conference panels can be viewed on Startup Canada Facebook and Twitter.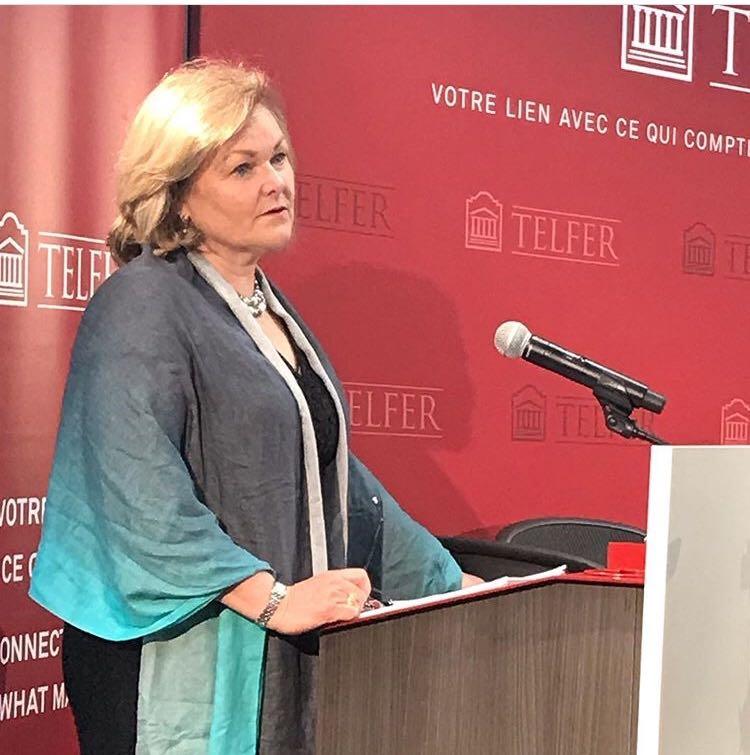 Putting Inclusive Innovation (i2) into Action
Entitled "Putting i2 into Action", the first plenary panel focused on the multiple ways that practitioners employ inclusive innovation to engage diverse entrepreneurs and drive impact. Moderated by Dr. Wendy Cukier (pictured far left below), speakers discussed institutional barriers in supporting women entrepreneurs, and the challenges facing women in scaling their firms. Ruby Latif described an organizational level challenge as "We often function in silos, and organizations are constantly trying to reinvent the wheel."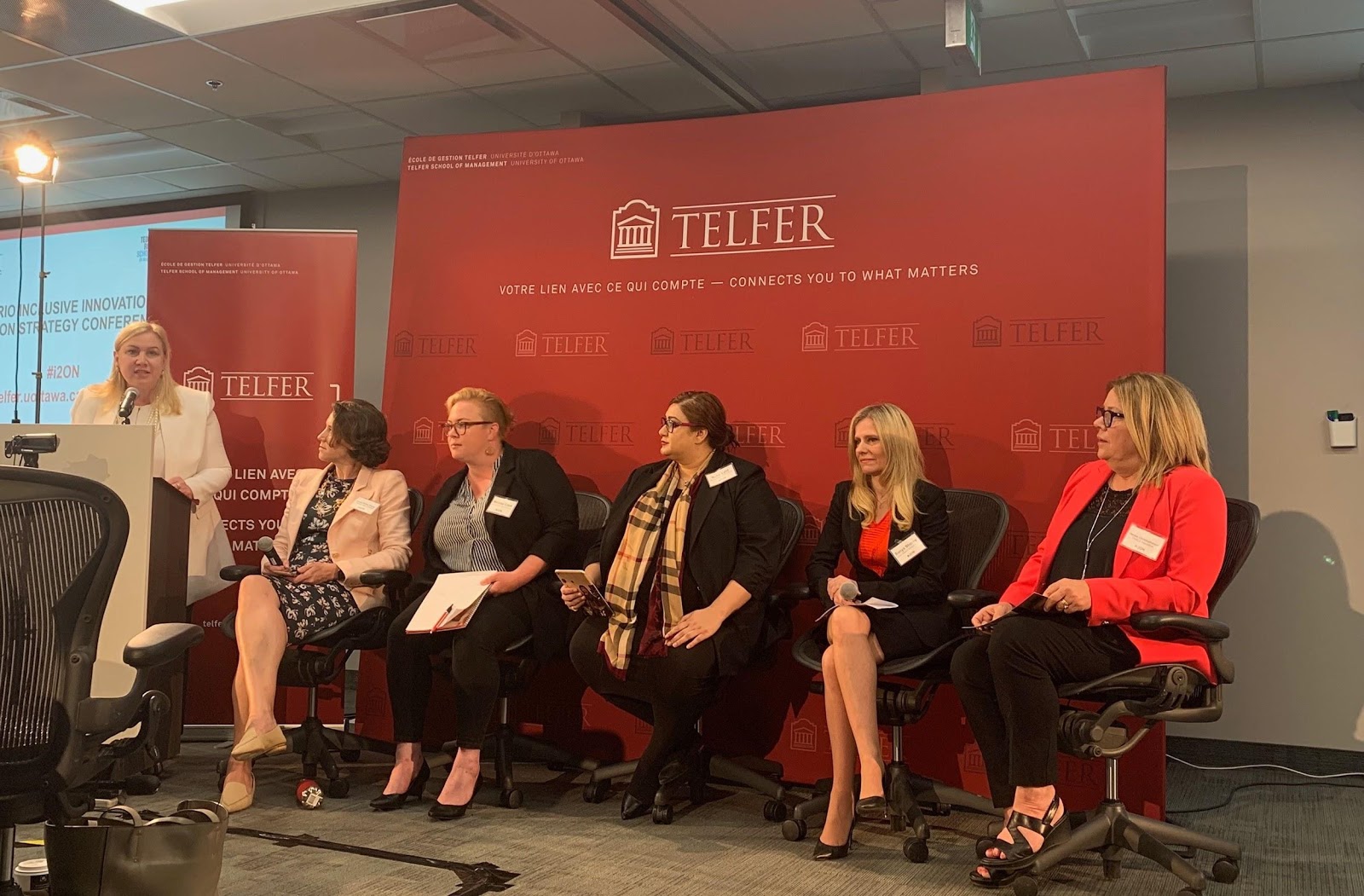 Panellists included (from left to right):
Karen Greve Young, CEO of Futurpreneur
Ruby Latif, Founder at Milieu Strategy and Consulting
Melissa Cook, Program Manager at PARO Centre for Women's Enterprise
Sonya Shorey, VP Strategy, Marketing, and Communications at Invest Ottawa and Bayview Yards, and
Denise Christopherson, CEO of YWCA Hamilton
Inclusive Innovation Changemakers
A second panel was comprised of more changemakers, individuals who are leading interventions to support women in multiple entrepreneurial ecosystems. Moderated by Lynda Partner (pictured far left below), VP Marketing of Pythian, panellists discussed their personal journeys in creating change, and how their organizations are spearheading interventions to support women in Ontario and around the world. Some of these challenges, according to Victoria Lennox, President of Startup Canada, include a lack of political support, cultural barriers, and difficulty expanding international initiatives.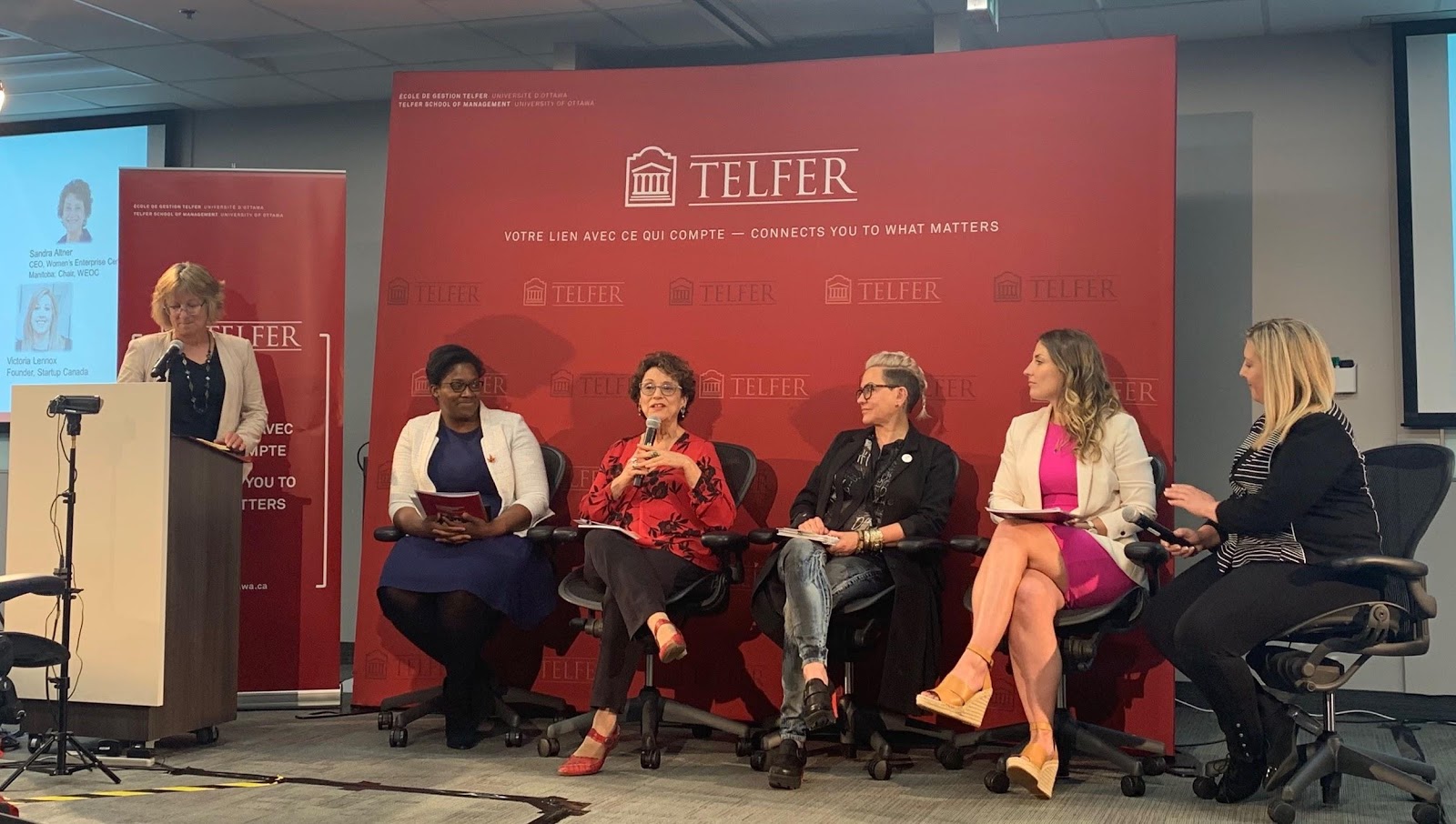 Panellists included (from left to right):
Stephanie Dei, National Coordinator – Canada, WE EMPOWER Programme at UN Women
Sandra Altner, CEO of Women's Enterprise Centre of Manitoba and Chair at Women's Enterprise Organizations of Canada (WEOC)
Petra Kussan-Murch, CEO of LiisBeth and Founder of the Entrepreneurial Feminist Forum
Anne Christensen, Director, Development and Partnerships at the Canadian Bureau of International Education, and
Victoria Lennox, Founder and President of Startup Canada
In closing off the panel, speakers shared advice. This included using failure to create success, and the lessons learned the next time around. Stephanie Dei, National Coordinator – Canada, WE EMPOWER Programme at UN Women advised to not be afraid to dream and envision your ideal world. Lynda Partner of Pythian then summarized the conversation by identifying collaboration, communication, education, persistence and passion as key values that lead to success as an entrepreneur and changes within organizations that seek to support women entrepreneurs.
---
In the words of Barbara Orser "The vision of the Ontario Inclusive Innovation Action Strategy is to make Ontario the most innovative and inclusive ecosystem in the world. This is achievable." The report documents gaps between the practices of small business intermediaries and the needs of Ontario women entrepreneurs. Recommendations include: building equity and inclusion assessment criteria into all government agency funding requests for proposals; expanding the mandates of innovation centres to include process, organizational, marketing, and product innovations; encouraging collaboration among mainstream and women-focused support organizations; and recognizing that inclusion requires change at the social, organization, program and individual levels. The report has already sparked online discussions in Ottawa and other Ontario communities.