Rob Ashe & Sandra Herrick - A Force for Entrepreneurship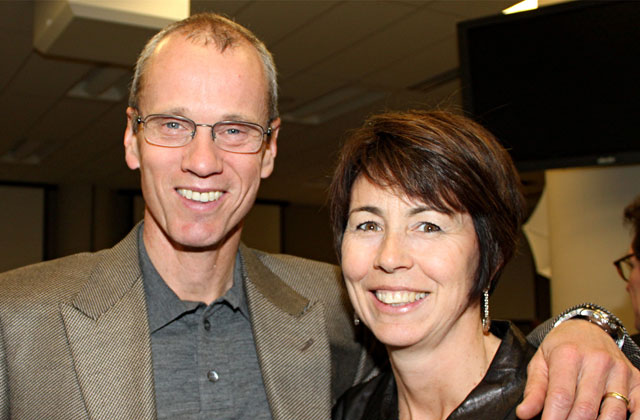 Rob Ashe and Sandra Herrick — Donors of the Year
We're Ottawa people. We grew up here, went to the University of Ottawa, built careers in our hometown after graduating and raised a family together. We owe much of our subsequent success and happiness to the rich learning experiences we enjoyed at uOttawa. We're by no means alone. The university means a great deal to our hometown, especially its core. uOttawa is the academic, cultural and athletic heartbeat of downtown. It's only natural to give back to an institution that has been vital to our lives and to the city we call home.
We're also entrepreneurial people—Rob especially. He has spent some 30 years in lead roles in the local high-tech industry. While we've seen this sector grow steadily, we've also seen it falter at times. Its missing link has been a lack of management expertise for companies founded by entrepreneurs and fuelled by disruptive technologies. It's tough enough to bring an idea to market successfully; it's even harder to make an innovative company sustainable. The donation we made to the Telfer School is our way of forging that crucial link.
The Dom Herrick Entrepreneur in Residence at the Telfer School is designed to propel young entrepreneurs to create and lead groundbreaking businesses. The residency also spurs people from traditional business environments to infuse these settings with the entrepreneurial qualities of ambition, experimentation and resilience. The fact that the Telfer School has made entrepreneurship a strategic area of expertise only adds to the wisdom of our financial donation. To make our contribution complete, we dedicated the residency to Sandra's late father. Dom Herrick had those key qualities of an entrepreneur. He was also keen to learn what new companies were emerging in his hometown, why some of these enterprises prospered and what aspects of their success he could apply in his job in the service industry. We're thrilled that a residency in his name is a force for entrepreneurship in Ottawa. We think he would be too.