The global economic recovery will rely disproportionately on the success family-owned enterprises achieve in managing next generation transitions. These organizations include 60% of the global workforce, account for two-thirds of the world's businesses, and contribute 66% of worldwide GDP. Professors Peter Jaskiewicz and Sabine Rau of the Telfer School of Management address this next generation shift in a new book to be released at this week's World Investment Forum in Geneva, Switzerland.
"Enabling Next Generation Legacies: 35 Questions That Next Generation Members in Enterprising Families Ask" details years of international research and practical experience into the unique challenges that confront family businesses. Solutions to these challenges must not only address transitional issues but also harness the talents of the next generation to overcome the devastating economic impacts of the pandemic on this sector.
"Without a sturdy, sustainable recovery among family businesses worldwide, there will be no global economic recovery at all," says Professor Jaskiewicz. "Our work demonstrates that there is a path forward, with best practices, that will help steer businesses through inter-generational change and provide clear means for the next generation to manage successfully - as well as provide a needed boost to jobs and growth worldwide."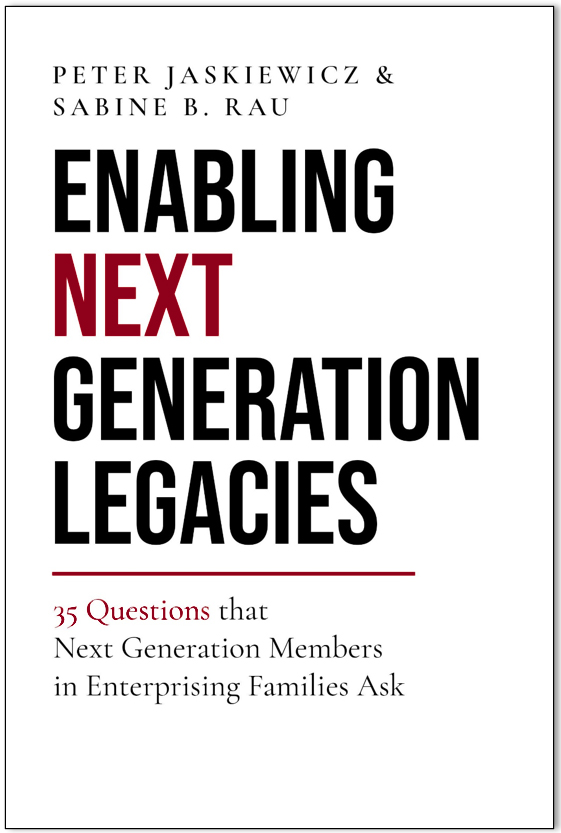 The new book explores the most important questions family business owners and Next Gens need to answer to empower sustainable businesses that can innovate post-pandemic. The book consists of best practices, real-life examples, and additional critical questions for reflection from nearly 100 contributors from 27 different countries. These expert commentaries come from members of the world's leading family businesses including Auchan (France), Saputo (Canada), and Sabra (Israel), as well as from various academic experts from business schools around the globe like Kellogg, IMD, and INSEAD.
"The next generation from family-owned business is eager and well equipped to take their family's enterprises to the next level," says Professor Rau. "Our book supports them in asking relevant questions, discussing answers and offering further food for thought."
Professors Jaskiewicz and Rau will present the findings of their book at the United Nations Conference on Trade and Development (UNCTAD)'s World Investment Forum during a featured address that will serve as a backdrop to their book's release. Through previews, the book has already been acknowledged as one of the most influential books on the subject by academic scholars, business owners, and the Family Business Network.
The United Nations is calling on the World Investment Forum for strong sustainable development recommendations to recover from the pandemic. The takeaways from the forum will be reviewed at the 76th United Nations General Assembly's deliberations on global policy actions. Today, UNCTAD's 7th World Investment Forum will explore how governments and business leaders can invest in sustainable recovery and address today's main challenges facing the investment-development community around the world. 
The book is available now for pre-order in North America (coming soon in Europe, Asia, Oceania and South Africa), and will be available as physical copies in early December. All book royalties will be donated towards supporting the next generation of students at the Telfer School of Management under the Telfer Nation Fund. This fund supports student activities and opportunities such as case competitions, internships, and student clubs that enrich the student experience outside of the classroom.
Testimonials for "Enabling Next Generation Legacies: 35 Questions That Next Generation Members in Enterprising Families Ask" 
"When Sabine and Peter approached me about this book, the timing couldn't be better. FBN was going to celebrate the 20th anniversary of its Next Gen community. Yet, this is much more than a book. It is a useful and practical guide, asking relevant questions and providing concrete tips on how to tackle difficult issues that Next Gens face daily."
—Alexis du Roy de Blicquy, CEO of the Family Business Network (Switzerland)
"This very helpful book is a gift to next generation members of enterprising families. Each chapter is a gem and collectively, it is a must-read."
—John Davis, Faculty Head, Family Enterprise Programs, MIT Sloan School of Management (United States)
Excerpt From the Book
"Why do many next generation members fail to succeed with the family business? A major reason for failure is not being accepted by long-standing managers and employees or by suppliers, banks or customers...without acceptance by important stakeholders, relevant resources will not be at hand, whether financial resources, information, knowledge or other. Earning acceptance is crucial...success depends on taking time to talk to as many employees, managers, customers, and suppliers as possible, listening carefully, not promising too much, and finally building alliances."