High School Students Compete for $82,500 in Scholarships at Telfer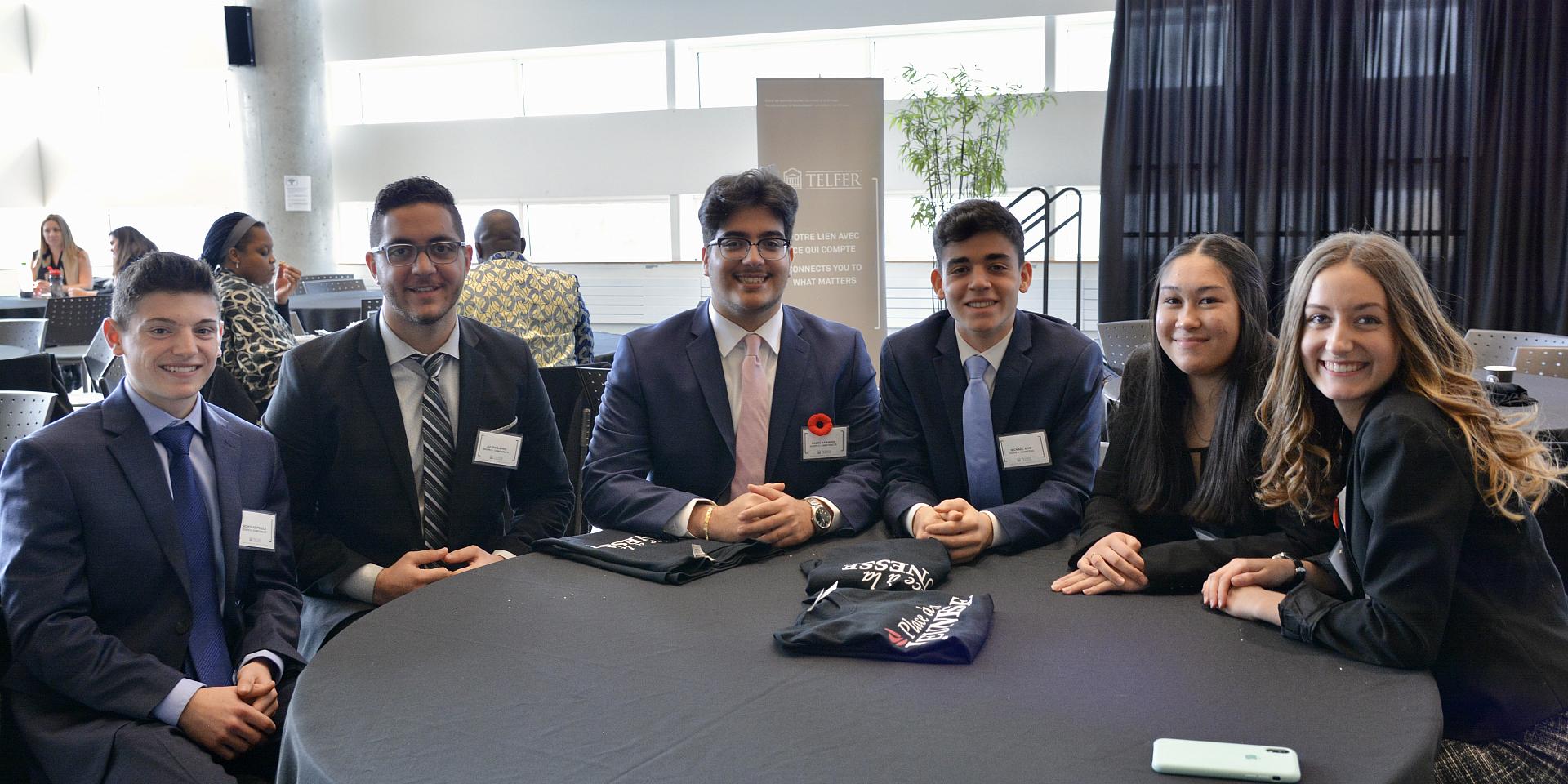 On November 9th, 2019, 90 students from francophone high schools across Ontario came to Ottawa to participate in the business case competition, Place à la jeunesse at the Telfer School of Management.
Each year, Place à la jeunesse is organized by Telfer students to introduce high school students to the business world and prepare them for university. At this year's 16th competition, 30 teams were selected from 90 schools to test their business case skills. The students competed in one of four categories; marketing, accounting, entrepreneurship, or debate.
The event started the evening before the competition, where Telfer students led workshops on PowerPoint, problem-solving, and presentation skills to coach high school students who had never been in a business environment before. The next day, the teams received their business cases, created solutions, and presented them to the judges. Winners received scholarships to the University of Ottawa from sponsors that added up to $82,500.
Telfer is thrilled to congratulate the winners of each category:
Marketing
1st place: Emma Iusan, Vanessa St-Denis et Julianne Lacelle from ÉSC L'Escale
2nd place: Ashley Edouard, Elyse-Anne Bordeleau et Saïma Altimo from CC Samuel-Genest
3rd place: Kara D'Arcangelo, Chloé Emery et Christian Ricard from ÉSC Thériault
Accounting
1st place: Marika Brunet, Emma Phillips and Annabel Clément from ÉSC L'Escale
2nd place: Mélodie Chartrand, Jade Poirier and Julien Lemieux from ÉSCR de Hawkesbury
3rd place: Alexa Caron, Keenan Roy and Emma Bertrand from ÉSC Thériault
Standout competitor: Marika Brunet
Entrepreneurship
1st place: Lyra Sheldon, Cameron Chevalier and Mathias Lazure from ÉSC. E.J. Lajeunesse
2nd place: Alexis Jeaurond, Laurie Boucher and Maxim Sauvé-Rozon from ÉSP Le Sommet
3rd place: Patrick Ibrahim, Simon Willemsma and Cyril Fayek from ÉS Père-René-De-Galinée
Debate
1st place: Lia Charleois, Cassandra Joly and Catherine Vaillant from ÉSCR de Hawkesbury
2nd place: Nathalie Shuh, Sarah Clouston and Anne-Sophie Autale from ÉSP. Le Sommet
3rd place: Delhia Mainville, Kassandra Marleau and Marie Luciani-Grimaldi from ÉSC de Plantagenet
Best Presenters
Marketing: Kara D'Arcangelo
Accounting: Mélodie Chartrand
Entrepreneurship: Maxim Sauvé-Rozon
Debate: Marie Luciani-Grimaldi