The 2022 Career Centre Celebration: Sunshine, Successes and Smiles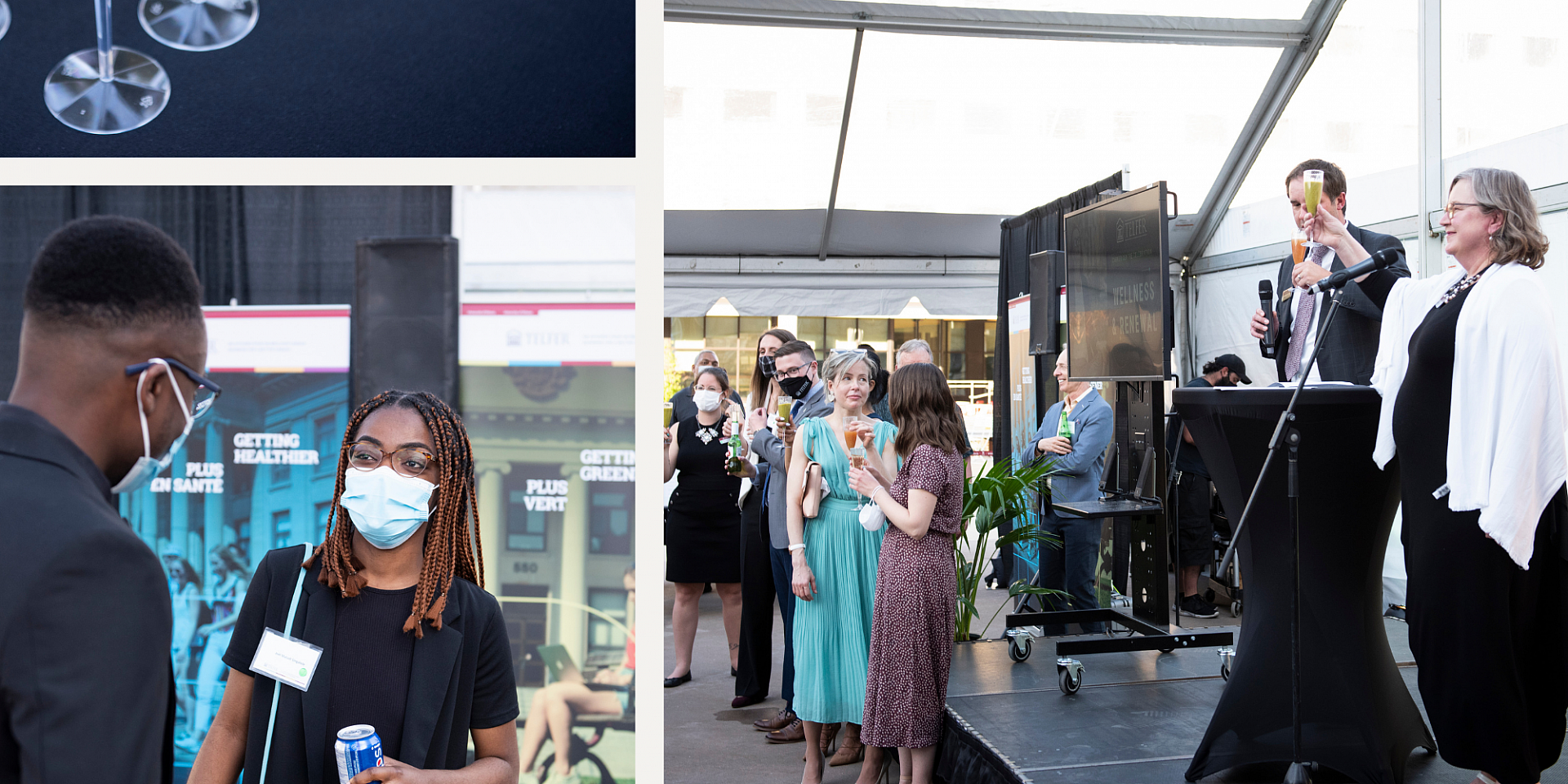 University Square. Tuesday, May 10, around 5:00 PM. It was a sight to be seen. Something from another era, some people might say. Under a blazing sun and a clear blue sky stood a large, immaculate white tent buzzing with excitement. The reason: the very first in‑person Telfer Career Centre Celebration (CCC) since its last edition back in March 2019.
For those among you who joined #telfernation at some point over the last two years, here is what you should know: the Career Centre Celebration is the biggest social event in the Career Centre's calendar, and one of Telfer's major events. A meticulously planned, special-themed event combining a great venue, great food and, most importantly, excellent company! The reason for hosting such a reception? To thank all the partnering employers without which the Centre would not exist, to honour faculty and staff that support the Centre's initiatives, and to highlight the professional development, career successes and invaluable contributions of the many Telfer students and alumni who are at the heart of the Centre's raison d'être.
No less than 80 guests – a modest number for Telfer but quite the achievement under the circumstances – gathered merrily on May 10 to eat, drink, and reconnect... in person! Aptly themed "Wellness and Renewal", the 2022 CCC emphasized the importance of nurturing our mental and physical wellbeing as part of our career development. It also gave us a unique opportunity to renew our professional relationships with colleagues, classmates, and partners. For 4th-year student Salma Benchekroun, the CCC had a precise meaning: "This event means a lot to me. As an International Management student, I was able to benefit greatly from the expertise of the Career Centre Team. If I am now a summer employee at Canada Post, it is mainly thanks to their guidance and constructive advice. It is with great joy that I'm celebrating the achievements of the Centre."
Under ideal circumstances, planning an event of this scale is stressful and challenging. For Karianne Lessard, Events and Special Projects Assistant at the Career Centre and the architect behind CCC, the task at hand this year was nothing short of colossal. She explains: "For me as an event planner, the stakes were high and the level of uncertainty, unprecedented. By crafting this event, the Career Centre Team fully embraced the very values they strive to instill among Telfer students as they embark on their career journey: agility, teamwork, initiative, perseverance, and most of all, passion. None of this, says Karianne with a beaming smile, would have been possible without the support of our colleagues and, of course, the presence of our esteemed partnering employers and students."
The in-person return of the Telfer Career Centre Celebration this spring bears a special significance. Not only does it mark a new milestone in our collective journey back to in-person events at the Career Centre, it is also a testament to the adaptability, resilience and spirit of collaboration we have demonstrated together over the last 26 months. All in all, a reason to look back with pride and look forward to the future.
If you are a Telfer student, know that Telfer Career Centre remains open all summer and, as usual, its professionals are there to support you in your career goals. To book an individual consultation, visit Career Launch.