Throughout 2022 and 2023, the Family Enterprise Legacy Institute (FELI) at the Telfer School of Management and the Family Business Network (FBN) are partnering to deliver the NxG Legacy Forums — a series of eight panel discussions addressing the key questions for next generation members of business families. Topic questions for the forums have been selected from a new book, Enabling Next Generation Legacies: 35 Questions that Next Generation Members in Enterprising Families Ask, by Telfer professors Peter Jaskiewicz and Sabine Rau.
---
The question "How can my siblings and I assess whether we could work constructively in the business one day?" was the theme of the first event in the NxG Legacy Forum series held in late March.
The event was moderated by Telfer's Peter Jaskiewicz and Sabine Rau, with panellists Valentine Barbier-Mueller of Groupe SPG-Rytz and Drew Everett of Bush Brothers & Company. Both Barbier-Mueller and Everett are members of multi-generational family businesses and have experienced the benefits and challenges of being part of an enterprising family.
Aligning on Values and Embedding Governance Structures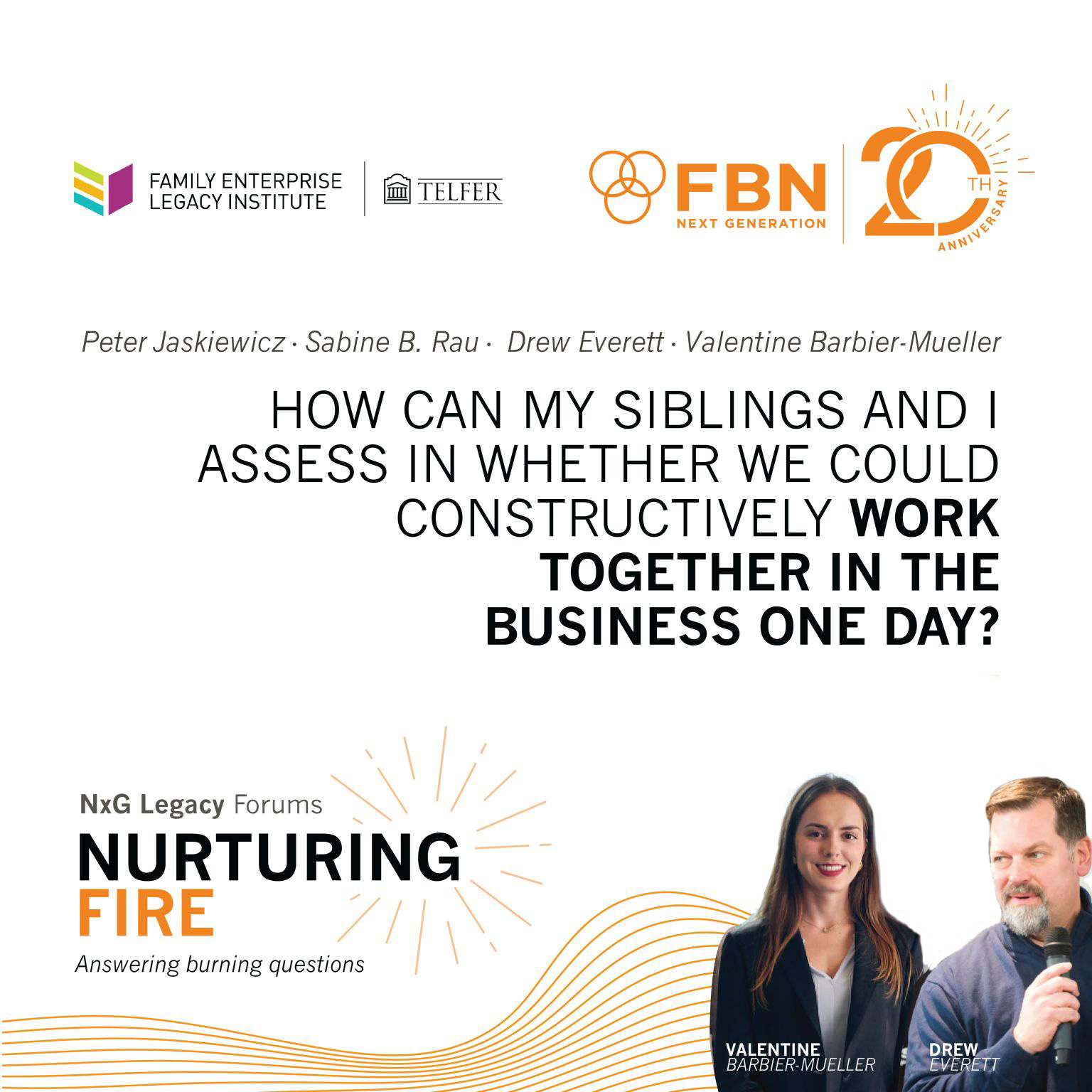 For Barbier-Mueller, one of the most important elements in keeping the next generation of a family business together was having shared goals and being aligned on the values they want to project. For example, while she and her father have different personalities and working styles, they came to realize their differences complemented each other. "This can be a source of positivity."
For Everett, a fourth generation member of a business involving 95 family members across the U.S., working constructively involved finding meaningful ways for the family to be involved, even if they weren't working directly in the business.
Some family members wanted to contribute but didn't necessarily want a job in the firm. Instead, opportunities were created for members to participate, including through governance structures like a board of directors, a family council, a private trust and estate activities, as well as events and family gatherings.
Everett stressed the need to put governance systems in place sooner than later. "Don't wait until the fourth generation and there's 95 of you," he noted.
Subscribe and stay up to date on the latest key resources shared by FELI.
For a limited time, entered for a chance to win your physical copy* of Enabling Next Generation Legacies by Peter Jaskiewicz & Sabine Rau.
Education is Key
For Everett, education was key in helping his family work together. He and other family members attended a series of courses to learn about the complexities of multi-generational businesses, creating systems and dealing with challenges. The courses provided him and his family with a shared educational foundation, vocabulary and understanding of the needs of a large ownership group.
Everett added that working with a knowledgeable family business consultant facilitated the process, helping identify areas of concern and building trust and togetherness.
Building Trust Within and Across Generations
Barbier-Mueller said that she and her sisters talk multiple times a day and try to keep communication flowing. "A family who has fun together will be more likely to stay together," she said, recommending taking pleasure in the time members spend together.
Another essential element for Barbier-Mueller is giving family members the benefit of the doubt, and "trusting that everyone wants to achieve the same common objectives."
Everett encouraged all members to make a concerted effort to build relationships. "Have opportunities for fellowship, and to get to know each other better."
Supporting the Next Generation
For Barbier-Mueller, the most important role for the senior generation is to clarify rules and foster unity. The senior generation must treat all next generation siblings fairly. The principal role of older members is providing a historical context for the business and sharing stories about core family values, thus providing continuity and helping bind the family together.
Rau wrapped up the discussion, mentioning that working successfully with family members requires effort. "We have to become aware that it's not just a given, but something we have to work for."
---
Upcoming NxG Legacy Forums
The second NxG Legacy Forum took place in early April, with the topic question "We have wealth. When should we set up a family office to organize it?" Watch for an event summary soon.
To find out other ways Telfer is helping empower the next generation of business leaders, discover the Family Enterprise Legacy Institute and sign up for the Institute's newsletter.