More than ever, food insecurity issues are rising as the COVID-19 outbreak has led people to stockpile. These issues are even more alarming when we think about food desert areas such as Lowertown and Sandy Hills in Ottawa, just a stone's throw away from the Desmarais building, since a major grocery store closed its door earlier this year for construction.
This is where Sprout, a student-driven initiative created within the social-enterprises incubator Enactus uOttawa, comes in with an affordable and comprehensive solution to help the community and its residents. Sprout provides fresh and affordable food by partnering up with local corner stores in those food desert neighborhoods in order to ease accessibility for people who don't have the luxury to go to a grocery store outside their area for regular runs, even prior to current confinement regulations.
Fresh food accessibility
Not only do they give corner stores access to local fresh food provided by Orleans Fresh Fruit, but they also help raise awareness through marketing initiatives to give visibility to their services directly and the ones offered through their convenient store partners. They are also building partnerships to expand covered territory, and they will hopefully cover all food deserts across town.
Another service offered by the Sprout team is the "do-it-yourself" meal kits. The meal kits are composed of five easy-to-do recipes with all the ingredients to prepare them, which can feed up to a family of four. Of the 13 current team members of Sprout, a dedicated group is making the meals and creating the different recipes to ease the life of many families and students and to help avoid stress related to maintaining a healthy and balanced diet, or simply securing five meals a week.
Acting as a good neighbor
Ryan Narendran, Project Manager of Sprout, summarized the current situation: "It's a local option that is accessible to the members of the community that are often forgotten. These communities are usually composed of the elderly and students who cannot drive to go to the store. In a time of social distancing, it's even harder for the elderly community to go to a grocery store, so oftentimes corner stores are all that's accessible."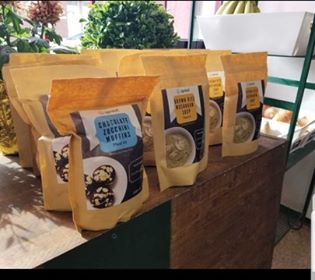 Currently, Sprout products and services are available at four key locations in central Ottawa:
o Wix Mart
TAG along with Sprout
Sprout services and assistance are available to any local stores who would be interested in expanding their service offering, especially under these special circumstances.
However, they are looking for community help to find another location to prepare the meal kits as the facility they were using had to close due to the outbreak. Anyone who has a commercial/community kitchen space they could lend is encouraged to reach out to the organization directly and pass along another Telfer Act of Greatness to help them out.
Nevertheless, according to Ryan, Sprout was already prepared to face the upcoming COVID-19 situations, and they have been increasing the production of meal kits earlier this year, and as they write those lines, they can still provide a standard level of service on that end.
TAG mention:
Sprout would like to highlight the work of all non-for-profit volunteer-based organizations currently giving a hand, putting their own health at risk. Most initiatives that emerged or kept going during the COVID-19 outbreak wouldn't be possible if it weren't for them, and hopefully if everybody could thank any volunteer they meet while using an essential service this could raise their spirit so they can keep it going.