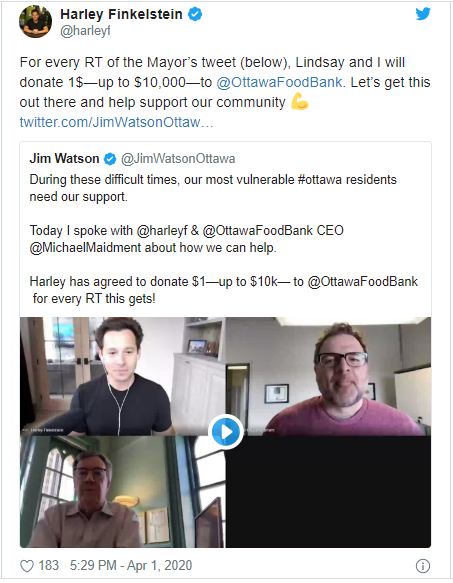 You never know where one act of kindness will take you. At the beginning of April, Shopify COO and Telfer MBA alumnus, Harley Finkelstein, led an act of greatness that started a beautiful chain reaction of giving.
On April 1st, Ottawa Mayor Jim Watson, CEO of the Ottawa Food Bank Michael Maidment, and Finkelstein shared their video call meant to look for ways to help the most vulnerable. It seems their meeting was highly productive as they came out with a Donation Challenge, benefiting the Ottawa Food Bank. The rule of the challenge is simple; Harley has agreed to give $1.00 for each reshare Mayor Jim Watson's post of their conversation receives on Twitter.
The movement rapidly got big support from the community including $10,000 in donations from both Sebastien St-Louis and Adam Miron, the co-founders of HEXO Corp., a cannabis company established in Gatineau. Miron even went a step further tagging other accounts, including the notorious hip-hop collective Wu-Tang Clan. The iconic group responded back the very next day with a generous donation of their own.
On April 2nd, 24 hours after the challenge had started, Finkelstein announced that over $170,000 in total were collected for the cause and 48 hours later the donations totalled $300,000. As he thanked the incredible responses from the Ottawa community, it reminds us that we are not alone - we're all in this together.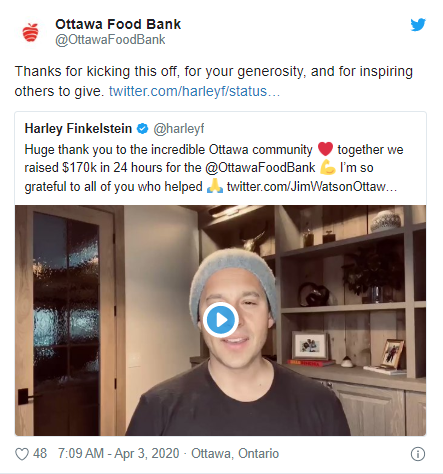 April 21st update
Shopify has announced that they will begin providing cash advances directly to online merchants in Canada, to support small businesses through the COVID-19 pandemic as the Ottawa-based company injected $200M through their Shopify Capital program.
Merchants on their platform will qualify for funds ranging from $200 all the way up to $500,000, depending on the nature of their business, said Finkelstein in an interview with the Financial Post.