SupportMyMac, a managed service provider for organizations using Apple devices, provided a technology solution free-of-charge to Connected Canadians, a local non-profit that provides technology training and support to seniors. Their mission is to reduce feelings of isolation among older adults through digital literacy skills promotion.
Sam Arseneau (BCom 2010), founder and CEO of SupportMyMac, started the company as a "side-gig" while he was still a student at the Telfer School of Management. His mission has always been to solve technology problems for organizations so that they can focus on what they do best: providing their products or services to their customers.
When Arseneau saw that Connected Canadians would be receiving a large number of iPads through Ruckify's COVID-19 initiative, he knew that SupportMyMac could also contribute by helping them set up their iPads. SupportMyMac is able to help users do this quickly and efficiently, as opposed to doing setting up one iPad at a time.
SupportMyMac joined the initiative by providing Connected Canadians with a customized solution, free of charge, that makes the process of setting up apps and managing security controls easier and faster.

How does the solution help?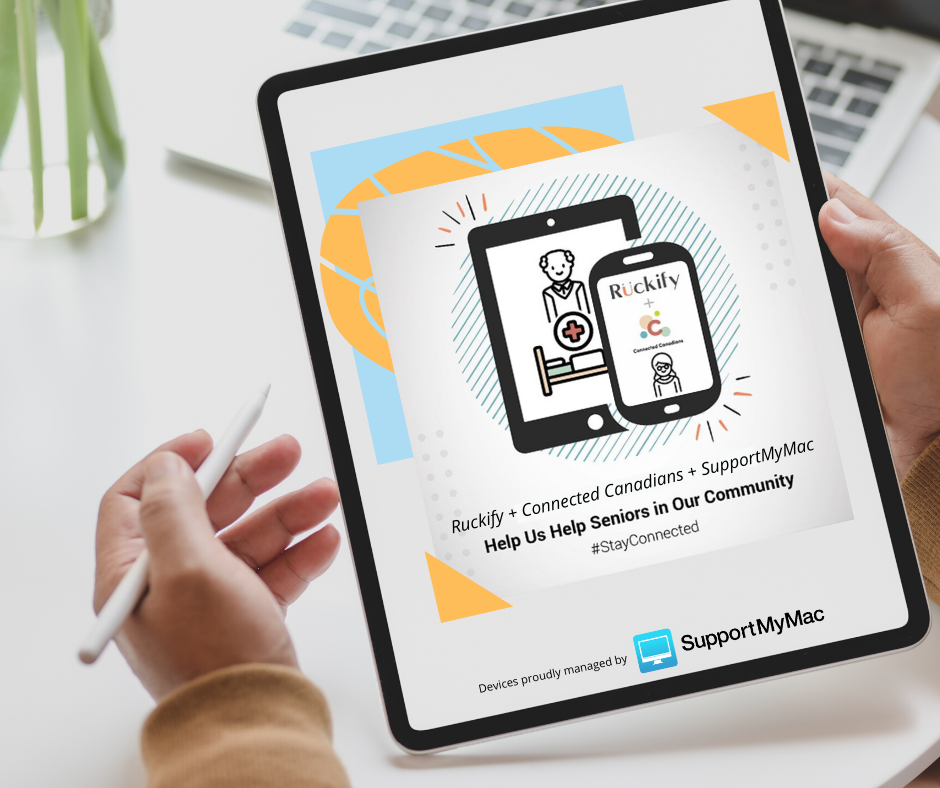 Without a Mobile Device Management (MDM) solution, organizations with multiple iPads must set up each device individually. That means a long process of plugging it into a computer, erasing the previous data, re-installing the current operating system, creating an AppleID account, then downloading and installing each new app they want on the device one at a time. They must also manually configure the security restrictions.
Connected Canadians was on the verge of purchasing their own MDM solution to minimize the setup time required for each device, and to ensure the iPads were set up consistently for seniors. Partnering with SupportMyMac allowed Connected Canadians to expedite this process significantly, leveraging the expertise of SupportMyMac to fine-tune the solution that would help Connected Canadians scale.
"The MDM solution from SupportMyMac gives Connected Canadians the ability to enrol, deploy and manage their Apple devices with ease, so that they can focus on their mission of helping seniors," shared Arseneau.
Why is this important during COVID-19?
Connected Canadians has always had the goal of empowering seniors to connect with family and friends through technology, and this mandate has become even more important during COVID-19 isolation. During the pandemic, "there are some more basic needs which they need help with," shared Emily Jones Joanisse, Connected Canadians' CEO and co-founder. "So in terms of buying groceries, learning how to video chat because people aren't able to visit them as easily anymore, being able to pay bills; those are the sort of things that seniors need to be able to do online now."
Arseneau explained: "Our team put together the platform that will allow Connected Canadians to efficiently set up the apps, security controls and restrictions, and to ensure privacy and accessibility." For example, the devices will be passcode protected for security, but if someone forgets their passcode, the device can instead be unlocked remotely.
"We want it to be a positive, drama-free experience for everyone using the devices," says Arseneau, quoting the SupportMyMac slogan of "Drama-Free IT".

More information about how to support the initiative financially, or by loaning or donating your devices is available in "Helping Seniors Stay Connected through Technology" from the SupportMyMac blog.