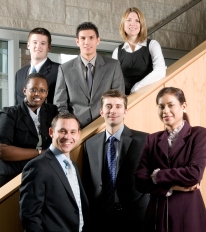 Picking up on a trend that has gained momentum south of the border, students in this year's graduating MBA class at the University of Ottawa's Telfer School of Management have created an oath of professional conduct and are asking their fellows graduates to take the oath as part of their graduation proceedings on October 25, 2009. This represents the first collaboratively written oath of its kind.
"There's certainly a movement out there among MBA students to raise the ethical bar in terms of how we want to conduct ourselves professionally", said Harley Finkelstein, one of this years' Telfer MBA graduates, and the driving force behind creating the oath. "This seemed like the perfect time to create a Canadian version of the oath", he said.
The concept of a professional oath for business graduates has been around for some time in Canada. The past year's financial crisis in the USA and the resulting bad publicity surrounding it prompted a new spark of interest in the subject.
Michael Miles, MBA program director and professor at the Telfer School, who has assisted numerous North American and international companies with advanced management training, has provided guidance to the students in planning the oath.
"These graduates see the world differently. Yes, they want to be successful in business but not at the expense of those things that they hold equally important to economic profits. The oath is a reflection of their desire to act differently", he said.
This year's convocation takes place on October 25, 2009 at the NAC in Ottawa. The MBA students will then gather for a reception in the Desmarais Building at the Telfer School where they will take the oath.

The MBA Oath (PDF)
For Information:
Christian Coulombe
Director, Marketing & Communications
613-562-5800 x 4672
This email address is being protected from spambots. You need JavaScript enabled to view it.