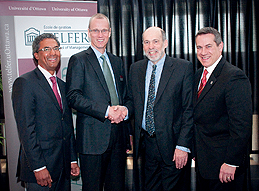 IBM and the University of Ottawa's Telfer School of Management will jointly invest a total of $4.8 million to create the IBM Centre for Performance Management, an international centre of excellence for business analytics to be housed at Telfer. The Centre's research into the use of business intelligence and analytics to improve organizational effectiveness will develop curriculum for future leaders of public and private sector organizations.
Over the next five years, IBM will invest more than $2 million in cash and in-kind time of IBM research and development, software, services, consulting and support staff. Additionally, IBM will make a contribution of $1.8 million worth of hardware and software, while the Telfer School of Management will establish a new $1 million endowment fund as an institutional contribution to the new Centre.
Through the new Centre, the Telfer School of Management and IBM will collaborate on new business analytics research, focused on performance management innovation and curriculum to help prepare students for careers in "economy of tomorrow" industries. These include health care, green infrastructure, clean energy and utilities, education, transportation and public service. These industries are expected to benefit from the billions in provincial and federal government stimulus investments.
Businesses and governments are using the power of analytics to strategically manage the information explosion and make informed decisions to better serve customers and citizens. Examples of these transformation projects include smart grids that lower energy consumption, sensors that help reduce traffic congestion, electronic medical records for personalized health care and RFID tags that trace food and medicine for consumer safety.
Beginning in September 2010, with the new IBM technology available, students will learn how to create dashboards that focus on key performance measures and how to manipulate data in this dashboard using analytic techniques to generate insights that lead to better strategic performance. In addition, they will understand how to use business process modeling tools to dissect business processes with a view towards improving operational performance.
"Analytics can be applied to everyday challenges to vastly improve our lives and provide highly marketable skills to our university students entering the workforce," said Greg Richards, PhD, professor of performance management at uOttawa's Telfer School of Management. "This new research centre will allow us to collaborate across disciplines to drill into integrative processes and methods that dramatically improve organizational productivity."
"To innovate, we have to continue to invest in skills that are in-demand by organizations worldwide. Analytics is becoming mainstream. These kinds of skills are no longer solely the domain of IT analysts, mathematicians or statisticians," said Rob Ashe, general manager of business analytics at IBM. "Today's organizations need workers with broad-based analytics skills to modernize transportation systems, help advance health-care systems and improve our cities to address the challenges posed by rapid urbanization. The University of Ottawa is helping to lead this charge by combining essential business and technical skills for students who will help transform key industries with modern techniques."
Photo Caption (left to right):
Dr. Greg Richards, Professor of Performance Management
Rob Ashe, General Manager, Business Analytics, IBM
Micheál J. Kelly, Dean, Telfer School of Management
Alain Doucet, Assistant Dean (External Relations), Telfer School of Management