Industry

Government

Job Title

Quality Systems Manager

Organization

Department of National Defence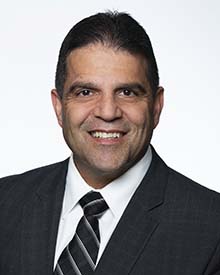 Thinking back to your childhood, was there a particular profession you dreamed of entering when you became an adult?
Born and raised in Montreal, Quebec I was always intrigued by mechanical things and trying to discover how they worked. My dad was a pharmacist by profession and worked as a quality manager at a large pharmaceutical company. He did hoverer, like mechanical things too and loved to work on his own cars. As a young boy I enjoyed working beside him on the 1967 Chevy Biscayne especially when I could use the tools myself, take things apart and wonder why there were always a few nuts and bolts left over after the projects. I really enjoyed helping and aspired of being a mechanic when I grew up. I also liked big trucks so what better profession than a military mechanic. I followed my dream, joined the military and became a mechanic, manager, test, design and senior engineering officer, managing armoured fleets and large capital projects. Now retired from the military, but still working with "Army Gear" as a quality manager in a specialized engineering test facility, following dad's footsteps again.
There are many compelling reasons to undertake an Executive MBA Program. What would you say was a turning point in choosing the Telfer Executive MBA?
I have been considering higher level education for a long time and my former supervisor mentioned that an EMBA would be a great fit for my career path in senior management. I needed a program that could provide hands on experience, be administered while I managed an already very busy lifestyle of family, work and the outdoors. I discovered that there were many programs offered but one that stood out was at Telfer. What sold me on the program was the real life consulting projects executed in the program, six of them! If you could be placed in a learning environment, "learning by action" practise the craft of business management and consulting with real life clients, what better confidence builder could you ever dream of. Graduating with a balance of advanced education, experience in business management projects completed in a team environment, all would be a very gratifying experience and allow the instant application of newly acquired skills during and post the program.
What do you admire in a leader or mentor? Do you have someone who you consider a strong mentor or leader within your life?
I feel I have had a satisfying career and always strived to increase my body of knowledge in all domains, this allowing a constant fulfilling journey of career progression. Very grateful to have worked with so many great people and leaders to permit me to succeed in numerous endeavours. One of my passed supervisors was always to be admired on how he was truly charismatic, had vison, was influential, could be trusted with your life and was always firm, friendly and fair. All the traits of a strong leader and ones you could admire. He has become a good friend and a mentor today that I still look up to for guidance.