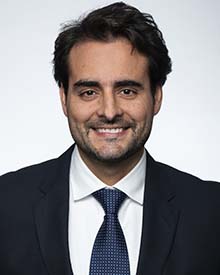 Who was your favourite movie growing up? What put it above the other movies you have seen?
My favorite movie growing up was Dead Poets Society, where actor Robin Williams played the role of an English teacher at an elite high school. His unconventional teaching methods awoke the passion of his students for literature and for poetry and helped liberate them of certain behaviors preconceived by society that have kept them prisoners of themselves. This film took me on a roller coaster of emotions; inspiring! Today, after so many years I still get goosebumps when I see the scene of the students standing on their desks and saying loudly: "Oh, captain, my captain!"
There are many projects and learning opportunities within the program. What are you looking forward to completing while in the Telfer EMBA Program?
My final goal is to accelerate my professional growth and to reach the skill-sets that will help me to be successful in any project that I pursue. I would like to have extensive knowledge about business in general with practical and theoretical instruments. At completing the Program, I am also interested in strengthening and developing my leadership skills, improve my communication skills and be part of the magnificent network that the Telfer Executive MBA offers.
What do you admire in a leader or mentor? Do you have someone who you consider a strong mentor or leader within your life?
In a leader I admire charisma, humility, honuorability and responsibility. In my life I have had several leaders whom I have admired and respected, as well as mentors that over the years have influenced my work and academic development. One of my first leaders and example to follow was my grandfather, he was a politician in my native Venezuela, founder of the main political party in the country, political prisoner in times of dictatorship, Senator and leader of his party for 10 years. He was a man of moral integrity, exemplary, decent, loved and admired. I remember that even in the twilight of his life, his house was always filled with new generations of politicians of different tendencies who sought advice and wisdom in him.