Industry

Information Technology and Services

Job Title

Associate Director - Consulting

Organization

Cognizant Technology Solution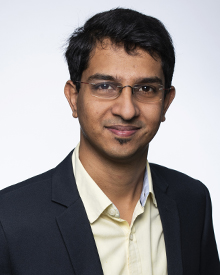 Think back to when you were a child, what role or occupation did you dream to do when you have grown up?
My father held me by my little hand and took me to the terrace. Silently, he unravelled a view of the constellations within the night sky that he would wonderfully put as the 'beauty of this world'. This would be my first 'Ursa Major' Night.
The night sky has always amazed me, but ever since it never remained the same. I could now connect the dots; I could now find meanings and shape my imaginations! Oh the joy that star-gazing brought with it. As a child, I wanted to be an astronomer.
What would you say was a turning point in choosing TELFER Executive MBA?
I was thinking of pursuing my Executive MBA for the past few years wanting to fine-tune my soft skills, enhance my analytical skills and effective writing skills for presenting RFP's (Request for Proposals). Also, these skills will help as I am promoted in my organization and my responsibilities increase exponentially. Though I am quite content with my core techno-functional competencies, I still become a bit apprehensive with few of my rough edges – the lack of soft skills that might hamper my team as well as me. I was pleased to hear that pursuing the Telfer Executive MBA focuses on the areas that address all my shortcomings. I am quite certain that accomplishing my degree at Telfer will take me to the next level.
What do you admire in a leader or a mentor? Do you have someone whom you consider a strong mentor or leader in your life?
During my prolonged 11 years of professional experience, I have worked under both extremely diligent leaders as well as not-so-good leaders. The thing that fascinates me in a leader is how he grooms his subordinates, while being impartial with all team members. A real leader brings himself on front-line when there is fault or conversely projecting the subordinates during any reward or recognition for team-endeavours. I consider my father as my strong mentor in my life.