Industry

Funeral and Cremation

Job Title

Chief Operating Officer, Funeral Director, Co-owner

Organization

Hulse, Playfair & McGarry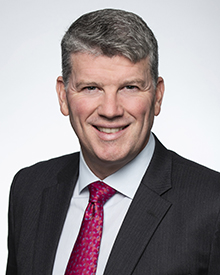 What was your favourite movie growing up? What put it above the other movies you have seen?
The sports-drama film series, Rocky has been a long-time favourite of mine. It has offered me motivation, inspiration and the ability to dream. The story of a down-and-out boxer, making the most of a stroke of luck opportunity, resonated with me that anything is possible if you are willing to sacrifice and work hard. As the series continued, other life lessons were learned; the fact that wealth and fame cannot match the amount of happiness one attains from being grateful and respectful; bad things sometimes happen to good people; and not everyone will get the same opportunities in life, so be sure to not let any pass you by.
A special life moment I experienced a few years ago was running the stairs of the Philadelphia Museum of Art with my daughter Kaitlyn, as we regularly watched and discussed the movies together while she was growing up.
Yes, the Rocky series is a bit cheesy and predictable and perhaps had one (ok two) too many movies, but to this day, if it is on a screen, I will sit and watch a bit as it still inspires me.
What would you say was a turning point in choosing the Telfer Executive MBA?
The turning point for me, in choosing the Telfer Executive MBA was witnessing the pride and active participation of alumni. I met alumni at information sessions and I reached out to those in our community. Their message was consistent: regardless of how many years had passed since completing the program, the common theme was that the Program was a 'life changing' experience that transformed them into not only more knowledgeable business people but also improved individuals.
Is there any not-for-profit organizations or clubs which you support? What draws you to this cause?
I feel truly blessed to be a lifelong resident of Ottawa and a local business owner. It is not only my privilege, but I believe my duty to give back to the community that has afforded me so many opportunities. Current local organizations I am supporting are: the Kiwanis Club of Ottawa, whose focus is on community service projects for children and youth; Kind Canada, an Ottawa formed organization with a national goal of inspiring all Canadians to purposefully include kindness in their daily lives; and 100 Men Who Care Ottawa, whose goal is to bring together men of all ages and backgrounds who want to give back to their community.