Industry

Aviation and Aerospace

Job Title

Director of Government Sustainment Programs for Canada and Latin America

Organization

Boeing Global Services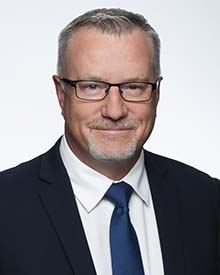 Thinking back to your childhood, was there a particular profession you dreamed of entering when you were an adult?
I started playing golf when I was ten years old, and I immediately fell in love with the game. There is something about golf that makes you want to continually improve, and I felt I could help others enjoy it as much as I did. While my game was solid- or so I though as a teenager - the opportunities to become a teaching golf pro where limited at that time, so I turned my attention towards a military career. As for golf, luckily it's a hobby that can be enjoyed at any skill level or at any age, and I still love the game.
What made you decide to enroll within the Telfer Executive MBA program?
I chose this program primarily for the Signature Series of Six Business Consulting Projects. After researching other programs, I felt that the Telfer Executive MBA would support my professional development goals the best. The schedule supports the demands of my current position with Boeing, and the material can be immediately applied to my work in the Defense industry.
What do you admire in a leader or mentor? Do you have someone who you consider a strong leader or mentor within your life?
I admire leaders who have a vision; who can motivate and inspire. I have always respected those who are honest, ethical, humble, self-less, and have the courage to make the tough decisions. I had the privilege to work with outstanding leaders while I was in the military and now in the Defense industry. I am fortunate to have some of them as mentors to this day, as I continue to learn from them and emulate the leadership traits that fit my values.