Industry

Railroad Manufacture

Job Title

Director, Eastern Region

Organization

ESI Rail Ltd.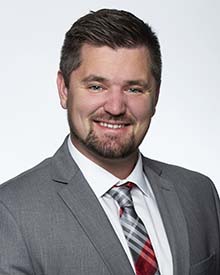 What was your favourite movie growing up? What put it above the other movies you have seen?
Growing up my favourite movie was "Bobby Jones: Stroke of Genius", this biographical drama depicted Robert Tyre Jones Jr. who was a unique individual. I admire Bobby Jones very much. He was a determined, tireless and hard-working individual that had very strong beliefs and morals. Unlike many, he chose to play as an amateur and refused to become wealthy from his love of the sport. Bobby stated, "When you play for money, you can't call it love anymore". Most of all I admired his outlook on life and aspire for the same, my favourite quote by Bobby Jones is, "Golf is the closest game to life. You get bad breaks from good shots; you get good breaks from bad shots – but you must play the ball where it lies".
There are many compelling reasons to undertake an Executive MBA Program. What is your goal for the Telfer Executive MBA Program?
The experience and progression that I have had in my personal and professional life has made me realize that I aspire for growth and improvement. My goal for the Telfer Executive MBA program is to allow me to take the next steps in my career and develop on a personal level as well. I strive to become exceptional at the executive level and positively impact the organizations that I reach. I am inspired by my cohort and Telfer alumni. The environment that Telfer has created and fostered is very encouraging. I am very appreciative for this opportunity.
What do you admire in a leader or mentor? Do you have someone who you consider a strong leader or mentor within your life?
It is the individuals you surround yourself with that molds and shapes you as a person. I have been very fortunate to have had great leaders in my life. Progressively, as I have moved in different careers, each mentor I have come across has impacted me in a different way and I often reflect on how. I can confidently state that the individual who has greatly impacted me would be my father. He has always leads by example, demonstrates the importance of following through and taking pride in your work.