Industry

Consulting

Job Title

Principal Consultant

Organization

Inovamar Consulting Inc.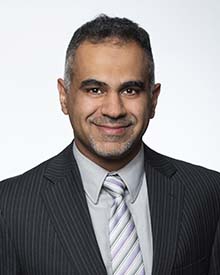 Thinking back to your childhood, was there a particular profession you dreamed of entering when you were an adult?
Growing up, my dream was to be a veterinarian. It could have stemmed from my love for animals or maybe because my dad was also a veterinarian. As a having a pet or any animal around was a joyful event and many of my childhood memories revolve around small animals. I often shadowed my dad in his practices when working with both large, farm and small animals.
However, as I finished my Bachelor of Sciences in Biochemistry, I was more interested in the pharmaceutical and medical device industries in addition to healthcare. This interest led me to who I am today.
What made you decide to enroll within the Telfer Executive MBA program?
My search for an MBA program started four years prior to my commitment to Telfer Executive MBA. I postponed my enrollment due to time and monetary constraints. While researching and considering various programs, I attended several special events at the Telfer Executive MBA. My decision to choose the Telfer Executive MBA was for three reasons. One was the study platform and the Signature Series of Six Business Consulting Projects. Second, the meeting with program alumni who reflected the program in their confidence, knowledge, and experiences. Finally, what also drew me to the program was the Program Executive Sophia Leong. She is a powerhouse. She is a woman with a vision and a mission to make Telfer Executive MBA candidates reach highest possible accomplishments. And so, I was in.
What do you admire in a leader or a mentor? Do you have someone who you consider a strong mentor leader within your life?
I have worked with and under many managers and directors. However, only few were true leaders. What I admired in those leaders was their positive attitude, warmth and competence. Although I didn't have a specific mentor, I would say that I learned through observation from various leaders. This is what I consider to be one of my weakness, not having a specific mentor that would direct me and guide me through difficulties and successes. I am still searching for that person.