Industry

Health Care

Job Title

Chemical Preparation Lab Technician

Organization

Siemens Healthineers, Epocal Inc.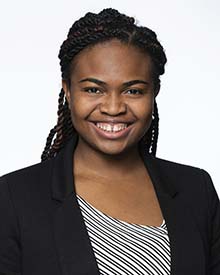 Thinking back to your childhood, was there a particular profession you dreamed of entering when you were an adult?
Growing up in Cameroon, I always dreamed of travelling and seeing the world. I also wanted to be a pilot, an engineer and a scientist. As I grew up, I realized I really enjoyed sciences. So I pursued this passion and graduated with bachelors in science. Now I am pursuing a career in management which I think is the perfect fit for me.
There are many projects and learning opportunities within the program. What are you looking forward to completing while in the Telfer EMBA Program?
My goal for this program is to learn all that I can about being an entrepreneur. I want to learn how to go about starting a business and what to expect as I embark on that journey. Most importantly, I would like to learn the tools necessary to create my desired work environment. I also hope to create a network and learn from people who are well-versed in areas where I am lacking.
What do you admire in a leader or mentor? Do you have someone who you consider a strong mentor or leader within your life?
I admire a leader who doesn't just give commands, but is there showing the others how it can be done. I admire a leader who is there to teach the followers valuable lessons that she has learned so they can learn from her experiences. I appreciate a leader who is real about situations, but is positive when things seem bleak, ensuring the people being led do not get dismayed. One such person is a good friend of mine. When we encounter situations where we are convinced we are doomed, she often finds a way to encourage us so we keep pushing.