Industry

Financial Services

Job Title

Assistant Chief Legal Officer

Organization

Export Development Canada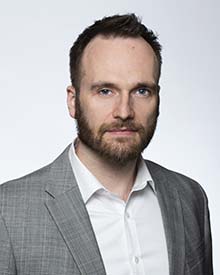 What would you say was the craziest or most unique experience you have had while vacationing?
We took a trip to Greece when our first daughter was eight months old. We thought we had anticipated the complexities of travelling with an infant, but didn't have the foresight to think about how we would get through the first night. After about 15 hours of travelling, including an overnight flight where our daughter slept and we didn't, we arrived at our destination having not slept in over 30 hours with a wide awake infant. Given that infants are notoriously bad in terms of self-preservation, our only choice was to sleep 30-60 minute shifts until we were able to sync back up with her in the new time zone.
There are many compelling reasons to undertake an Executive MBA Program. What is your goal for the Telfer Executive MBA Program?
My primary goal is to expand my business and executive knowledge-base to compliment my existing legal training and experience. As in-house litigation counsel at Export Development Canada I provide day-to-day advice across the organization to its various business groups. I anticipate the Telfer Executive MBA experience will sharpen my understanding of the various challenges our business groups and executives face on a regular basis. In turn, I am hopeful I can provide more poignant advice to assist in avoiding further legal disputes and resolving existing ones.
What do you admire in a leader or mentor? Do you have someone who you consider a strong leader or mentor within your life?
There are a lot of skills that can exemplify a good leader, including; leading by example, training, instructing, delegating, compassion, and being humble. Typically, it is ideal to maintain an equilibrium of these characteristics. However, what I admire most in a leader is the ability to be sufficiently aware of the situation and to know when and how to adopt their leadership style to the situation and group.
Being compassionate when direction is needed, or taking on too much work when delegation and trust are needed are examples of crippling leadership. Conversely, having the instinct to be aware of their surroundings and how to adjust accordingly is the most important trait among leaders I have seen.