Industry

Crown Corporation

Job Title

Chief, Partnerships and Community Engagement

Organization

National Gallery of Canada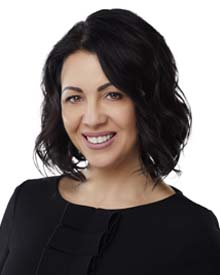 Thinking back to your childhood, was there a particular profession you dreamed of entering as an adult?
When I was child, I dreamed of becoming a powerful secret agent that would make the world a better place. Perhaps this dream stems from my early-age experience living in a troubled foreign country or perhaps it is because I was watching too many Wonder Woman sitcom episodes? I laugh reminiscing at all of the hours I spent trying to master her moves and trying on women's business suits.
Although I never made it to the spy world, I am grateful for my very diverse and rich career throughout which, I have had the opportunity to meet many interesting people from all walks of life. More importantly, I have always pursued my dream of being the best I can be and to make a positive difference in the life of my loved ones and my community.
There are many opportunities for high-education. What made you decide to enroll within the Telfer Executive MBA program?
I chose the Telfer Executive MBA because its global, practical and relevant approach is particularly appealing to me, especially considering my keen interest in both international relations and business.
As I reach a critical juncture in my career, I see the Telfer Executive MBA program as the next logical step in my development, not only as professional, but as an active member of society. I am convinced that the comprehensive in-class learning experiences offered through the six business consulting projects- Telfer Executive MBA's secret sauce - will give me the additional knowledge, experience and confidence that I need to consolidate my past professional experience, and position me well for a senior executive position; ideally within the international diplomatic community.
What do you admire in a leader or mentor? Do you have someone who you consider a strong leader or mentor within your life?
I am a strong believer that alone you can walk a mile, but together you can move mountains. That is the key lesson that I have learned from leaders that I admire and that motivate me the most. These leaders are passionate, authentic and humble. They inspire you towards a common vision, all the while setting clear goals and expectations. When you stumble, they help you rise above and help you identify the opportunity for growth. More importantly, they realize that giving is receiving, and that together, you reach higher levels of excellence.