Industry

Legal

Job Title

Chief Operating Officer

Organization

Perley-Robertson, Hill & McDougall LLP/s.r.l.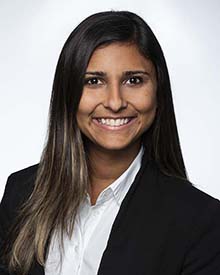 What would you say was one of the most unique experiences you have had while vacationing?
I recently visited the city of Arles in the Provence Region of Southern France. Interestingly, Vincent Van Gogh, my favorite painter, lived in Arles for the last two years of his life and painted over 300 paintings while residing here - including some of his most famous works. I had the privilege of visiting the different places that inspired Van Gogh's paintings, including 'Café Terrace at Night' and 'Starry Night Over the Rhone'. This was an incredible experience that I will cherish forever.
There are many compelling reasons to undertake an Executive MBA Program. What is your goal for the Telfer Executive MBA Program?
My goal is to deepen my managerial skills as I have recently taken on a greater leadership role within my company. The Program will complement my career progression by allowing me to further develop my knowledge within human resources, and bring new techniques and practices to that aspect of my role while preparing for possible future challenges. The Program will also provide me with formal training in new specialized areas. My ultimate goal is to become more dynamic as I progress in this all-encompassing role within my company.
Is there any not-for-profit organizations or clubs which you support? What draws you to this cause?
I am a proud member of the Board of Directors of Family Services Ottawa (FSO). FSO is a not-for-profit organization that offers counselling and support services to individuals and families in need. FSO assists thousands of people every year and the work they do is highly impactful and makes lasting improvements in people's lives. FSO's values of humanity, diversity, accessibility and social justice (to name a few), are the reasons I am drawn to the organization and the great work they do. I am very happy to be a part of, and fully support, such a meaningful organization and its initiatives.